Private swimming lessons in southwest London
One-to-one, or 1:2 or private swim lesson are very popular choice in our swim school.
Why Do People Book Private Lessons?
Sometimes a child or an adult would prefer or need complete attention of a swim instructor during swim lessons.
Group lessons could be a good choice if tangible progressions are made within reasonable timeframes, otherwise we recommend private swimming lessons.
Our private lessons are great choice:
For children or adults who are particularly nerves about being in and around water

Those are more keen to have a faster way to learn and progress

Those who wish to save time and be more efficient with their time in pool

People who have particular aims and objectives for booking lessons like, improving bi-lateral side breathing when swimming front crawl.
In our private swim lessons, a swim teacher is able to spend all of the lesson time with only one swimmer and use the whole of lesson time to mould the activities and practices around the needs of one swimmer.
This way, swimmers can have a far more personalised approach.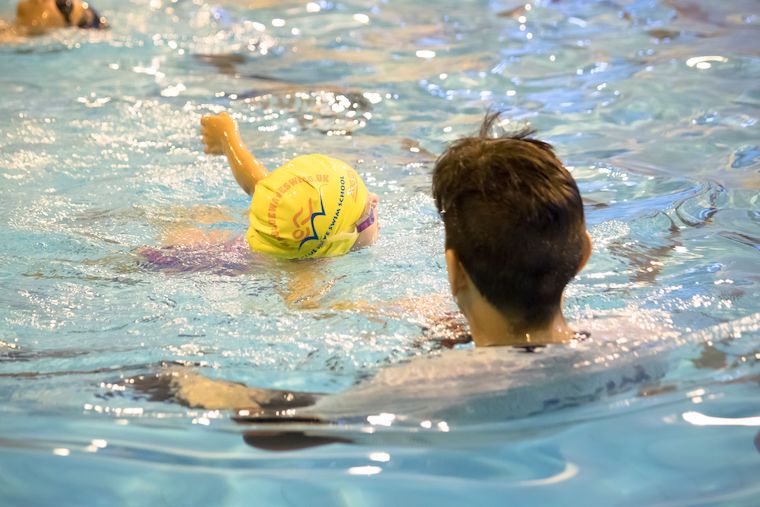 We offer private swimming lessons in southwest London for children and adults; 1 to 99 years old.
Semi-Private Swimming Lessons in South West London For Sibling and Friends
We also offer lessons for two or three swimmers who want to share lessons with each other. In our 1:2 and 1:3 lessons, two swimmers or three swimmers can have one swim instructor and share lessons with each other. 
This is a very popular option who want to book private lessons for their own children to have lessons together or when friends would like to have swim lessons together. 
For adults; semi-private swim lessons could be offered to couples or friends or family members who would like to book and have lessons together. It could only be a good option, if individuals who want to share lessons, also have similar swimming skills.
If you have a child and you don't know another family who would want to share lessons with you, sometimes we can help.
If you are particularly interested in booking 1:2 lessons for your child, please enquire about the possibility and wishing us to make the arrangement, please get in touch directly.
Please note, for adults, we cannot match you with other adults to share lessons.
Learn more About Other Lessons