How Do You Spot a Good Swimming Teacher?
Swimming is a sport that depends upon developing a base level and gaining skills over time. Most people think that, in swimming, you start with teaching and then move onto coaching. However, the reality is that you never stop teaching swimming, since you always have to show swimmers how it's done correctly when you teach technique.
Therefore, everybody needs a good swimming teacher. But, first you need to know how people become swim teachers and then, what makes a swimming teacher really good.
It might be common knowledge that a swimming teacher provides instruction and constructive feedback, and shows how actions should be done correctly.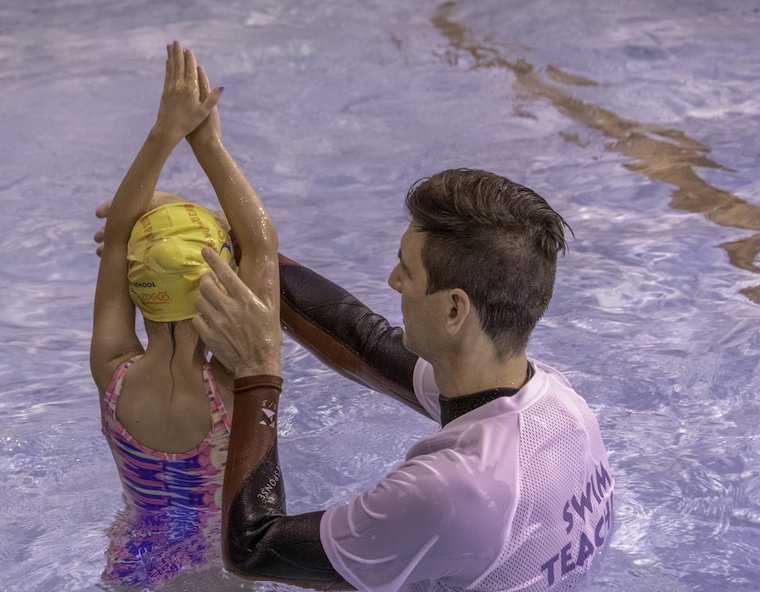 Sound easy? Actually, this is not an easy task, especially if you really want to be good at it. Generally, a good teacher or coach has to dedicate plenty of time and energy, and it takes years of practice to get good at teaching: teaching swimming is no exception.
So, How Can You Tell A Swimming Teacher is Good?
A good swimming teacher/coach should be:
1) Qualified:
Having a swimming teaching qualification means a teacher has demonstrated his/her competency for teaching swimming by undertaking tests and exams.
In England, there are two major awarding bodies from which teachers can receive their swimming teaching qualifications.
These are Swim England (former ASA) and the STA. However, around the world, there are many other awarding bodies which provide excellent swimming teacher training programmes and their qualifications are internationally recognised.
2) Knowledgeable:
Having a swimming teaching qualification is the absolute bare minimum that one has to have in order to be able to teach swimming.
A good teacher is not just qualified, he/she is also knowledgeable. In fact, a truly excellent teacher is trained and knowledgeable in lots of different things – ranging from swimming and diving to water polo and 'Parent & Child' teaching.
They also have the skills to teach diverse groups. He/she is part of a swimming teaching community and is always seeking to gain more knowledge and experience and to exchange ideas with other teachers.
3) Understanding:
Every child is different and the pace of learning swimming is highly dependent on the child's age, personality and how much water exposure they have had before starting formal lessons. A good teacher will know all of this.
4) Organised and professional:
A good teacher keeps regular records of his/her classes and has a plan for what needs to be achieved over a session, as well as during a term or season. They know how to set goals for different classes based on different abilities and ages, and they know what exercises and drills they need to implement to achieve their goals.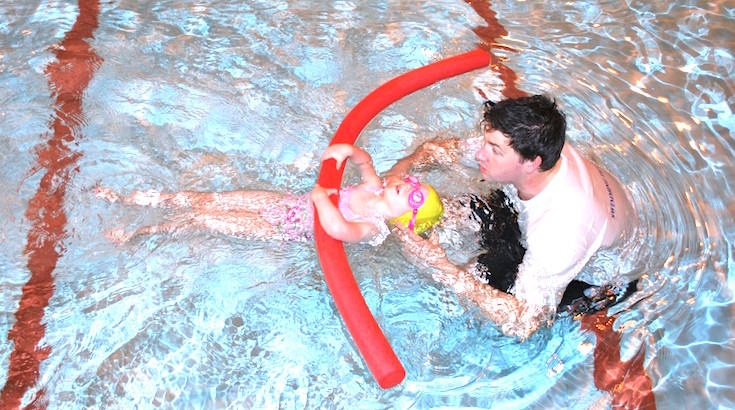 5) Motivational and creative:
Teaching swimming has to be more than just verbally giving out instructions to learners and managing a crowd. It's about motivating children and caring about the feedback that children provide during lessons. For example, if an exercise is not working (it is too hard or too easy), a good teacher should be able to use his/her imagination and creativity to implement changes. Every activity in the lesson should be fun, purposeful and should be used to help the children work towards achieving a goal.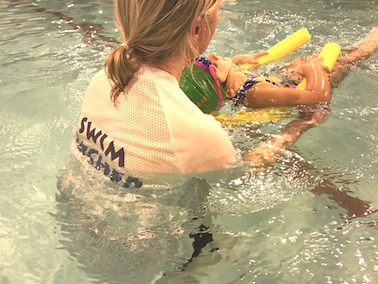 In summary;
To develop the special skills needed for swimming, a teacher has to inspire confidence, and be motivated and knowledgeable; then they can get the very best out of their swimmers. Yes- quality of teaching is very much depending on the quality of the teacher.
Children have diverse personalities, learning styles and interests across different age groups. So, at Blue Wave Swim, our swimming teachers use a variety of strategies, such as 'leaning through play', to stimulate curiosity and learning.       
We believe that the quality of the learning experience in swimming lessons is highly dictated by the quality of the teachers. Hence, we only have top teachers in our team.
At our swim school, we cater for all swimming abilities: from nervous beginners to advanced swimmers. Our Learn-to-Swim programme has been developed to incorporate a series of graded class levels that enable children to build water-confidence and work on the techniques of four competitive strokes, as well as other important aquatic skills like diving and sculling.
---