Marjan Moosavi founder of Blue Wave Swim School
Hi. This is me, Marjan Moosavi, the founder and owner of Blue Wave Swim School.
I founded Blue Wave Swim School in February 2010 after decades of being a swimmer, a swimming teacher, a sport coach and an educator.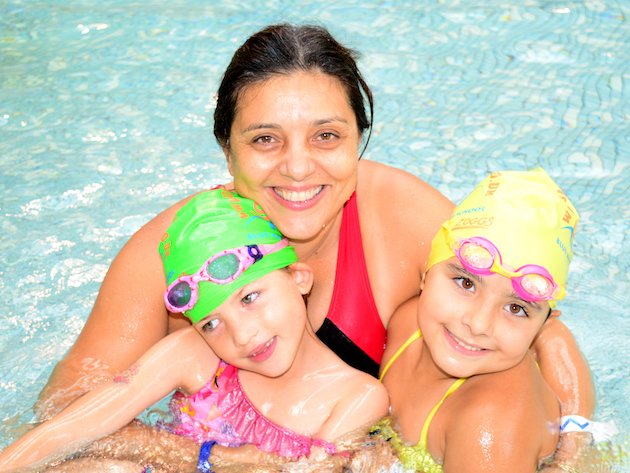 I became a Swim England (former ASA) qualified swimming teacher and coach in 1995 and after sharing decades of swimming and teaching experience through my blogs, I have been one of the top 10 U.K swimming bloggers since 2018.
Here it is if you are interested in having a look my blogs award-winning swimming blogger.
I honestly think, the benefits of learning to swim goes above and beyond swimming pool.
I'm fascinated to see how people around the world learning to swim and enjoy swimming as a sport or a leisure activity for thousands of years.
"A man is not learned until he can read, write and swim" ~ Plato
Swimming Is like Maths and Music
Are you asking why?
I think, because, it looks the same around the world. People swim front crawl and call it front crawl no matter where you are in the world. And like music, swimming is a source of joy and fun for people and specially kids around our planet. We all feel much better after a swim.
So, no wonder that my swim school is a good representation of what I love and care about.
I love sport, swimming, education and giving everyone an opportunity to learn, grow, use the medium of water to be more confident and joyful.
Marjan's Swimming Teaching Philosophy
You can read a lot about what I think about how swimming should be taught in my blogs.
But, in short, I believe everyone can learn to swim. But, everybody is different and each person learns at their own pace and their own background. Academic research and my own experience have convinced me that not even twins learn to swim in the exactly same way.
I strongly believe that teachers determine if we get to like or hate swimming. So, one-size-fits-all teaching style cannot work in swimming.
Hence, people expect different approaches to deal with their needs and specially that is the case for children.
I genuinely believe the biggest part of quality teaching is the actual teacher. I am 100% convinced our learning experiences are highly related to the quality of our teachers.
My time is dedicated to being truly an expert and to ensuring my swim teachers are, too. I think all teachers should feel a massive duty to be the best at teaching.
Personally, I've dedicated majority of my time to the teaching aspect of my swim school.
I have done many many extra training around the world. I have done several additional certifications for teaching and coaching swimming including teaching babies, toddlers and pre-schoolers specialist and teaching children who are on Autism spectrum.
On being passionate about quality, I pride myself on the fact that I spend a great deal of time and energy into having the best possible teaching team and bring the best teaching practices from all over the world to my swim school.
All of Blue Wave Swim School's swimming instructors have a well-recognised swimming teaching qualification, they have a zest for learning and they are enthusiastic and committed to delivering the best swim lessons for all of our swimmers.
Swimming Is A Lifeskill And a Sport
So, from babies all the way through to adults, we want to enthuse everybody to learn to love the water, be able to swim and get better at it.
We offer swimming lessons for babies from 4 months of age and upwards and cater for different swimming abilities, from novice to advanced swimmers. A wide range of class options; group, private and semi-private in southwest of London to suit different learners.
We believe in being consistently excellent, and our quality of teaching and positive experience should be the reasons for parents to choose us.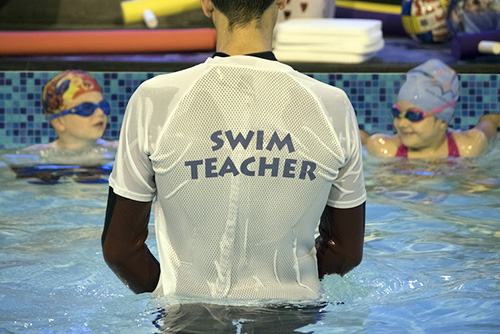 We have adapted the Swim England's 'learn-to-swim' pathway and have developed it even further to create a clear progression route for all of our learners.
Our philosophy is teach core and basic aquatic skills before attempting to developing efficient stroke technique.
We can take every child from a complete beginner stage to pre-competitive level of swimming. Through the different stages of our programme, your child will continue to progress regardless of their age.
Once joined Blue Wave, your don't have to move your children to another swim school after reaching a certain age.
We group students based on their abilities and age groups. We care about the quality of our swimming lessons and keep our class sizes small.
Our enthusiastic and qualified swim teachers have the ability and expertise to select and apply different teaching methods to create the best learning enviroument for every child.
The initial swimming lessons experiences are vital for liking and sticking to swimming.
That is why we have structured lessons with clear goals to teach swimming thoroughly without forgetting the fun part.