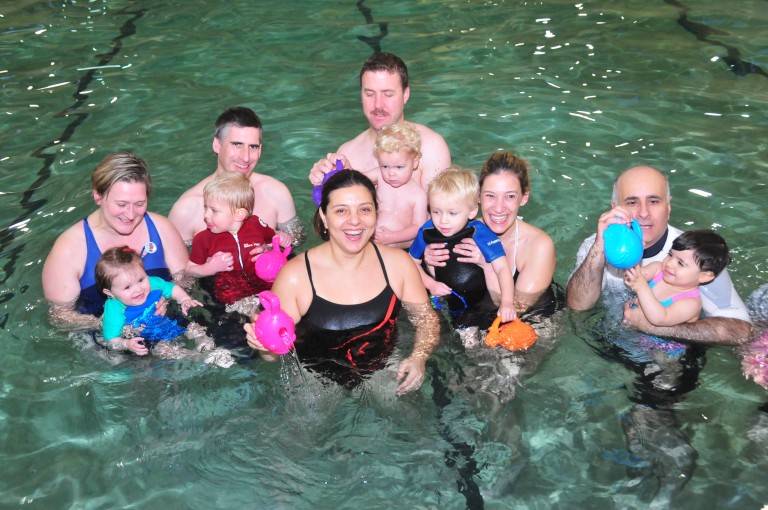 Swimming with your baby and toddler is a great fun and bonding activity. It is even more fun, when your little one gets excited by being in water.
Let us to share the joy and be part of  the start of your child's swimming journey.  Globally, baby swimming and toddler swimming classes are recognised to be the best way to develop water confidence early on.
Plus, being part of a joyful and fun environment and sharing activities with other parents and babies and toddlers, just add more fun to the whole experience.
we offer baby swimming lessons and toddler swimming classes in SW15, SW18 & SW19, in Southwest London.  Babies can join us from 4-month-old upwards and toddlers can be in water with a parent up to age 4 years old.
Baby swimming lessons are for babies aged 4 months to 1.5 years old. Our 'Parent & Toddler' classes suitable for children aged 1.5 and up to 3.5/4 years old.
The aim of these classes is to promote water confidence in littles ones and teach the basic swimming skills through play and fun activities
Parents will also gain the range of knowledge and learn skills necessary to handle their babies & toddlers confidently and safely in the water
Parents learn from the instructor's example how to guide and teach their children in the water, using positive reinforcements, appropriate and fun practices and mixing them with nursery rhymes.
Every child should be accompanied in water with an adult (parent or a trusted adult).
Adults don't need to be confident swimmers to participate in these classes.
Babies can participate in these classes after they are fully immunised, which is normally 16 weeks (4 months) after birth.
Read more about 'Parent & Child' Swimming Lessons
What Babies Need To Wear For Their Swimming Lessons
Swimming Lessons for other Ages and Swimming Abilities