Never Too Late: Take Private Adult Swimming Lessons
Why Adult Private Swimming Lessons?
At our swim school, we regularly get enquiries about our private adult swim lessons. This is a typical statement that we hear from adults who are looking for private adult swim lessons:
"I am 40 year old male afraid of water. Want to learn swimming to overcome my fear and enjoy the sport.  Would like a few private lessons with someone who is able to help me overcome my fear and teach me to swim."
OR…..
"Whilst able to swim I not confident in the water , hate putting my head under and going out of my depth. Would love to improve, can you help?"
OR….
'Never learnt to swim after a terrible experience when younger. Would love to surprise my patner and learn to swim and join her in the sea when go on holiday. Can you help?'
Sounds familiar?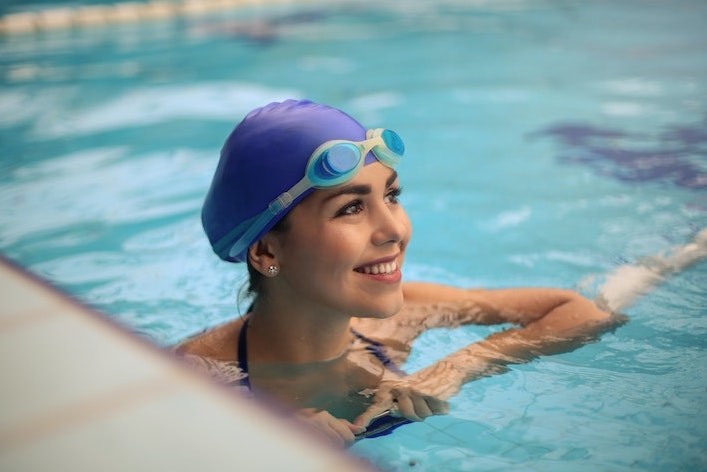 Many Adults Don't Know How To Swim But, That's O.K!
If you are an adult and cannot swim, you are not alone and it is nothing to be embarrassed about. 
Swim England published a report in 2015 showing that 20% of men and 22% of women aged over 14 years in England cannot swim, and that 2.13 million adults want to learn to swim.
Although the concept of swimming lessons is more familiar for people as an activity for children, there are millions of adults in the U.K and billions around the world who cannot enjoy swimming. Swimming is like driving; after certain age, if people cannot do it, they think they should forget about it. Which is so not ture.
We once had an 83 year old retired army officer as a pupil at Blue Wave Swim School.
Although it's never too late to enjoy swimming and the benefits of being active in water. you can only enjoy being in the water, when you are not scared of it and know how to swim.
Does Swimming Make You Anxious?
At Blue Wave Swim School, we receive many enquires from adults who want lessons to deal with the struggle and anxiety of being in water. Even swimming a width of a pool (i.e, 10 meters) can be a major struggle if one has never learnt how to be at ease with water and breath out in the water with comfort. Some adults may be able to swim for a short distance but after a while, they start getting anxious about breathing particularly if water goes over their heads and they just hold their breath when swimming.
Take Adult Swimming Lessons
It is never too late to learn to swim. But, it's worth reminding adult learners that learning proper technique is complex. Swimming is not just about moving your arms and kicking your legs. Having a correct breathing pattern; the ability to breathe out in the water and breathe in when your face is out of water without panicking, and having the correct body position are the 'must have' of swimming.
Aside from backstroke, one of the most important aspects of swimming is breathing control.
If you don't know the technique of aquatic breathing (breathing out in the water with ease), it will be difficult to swim continuously.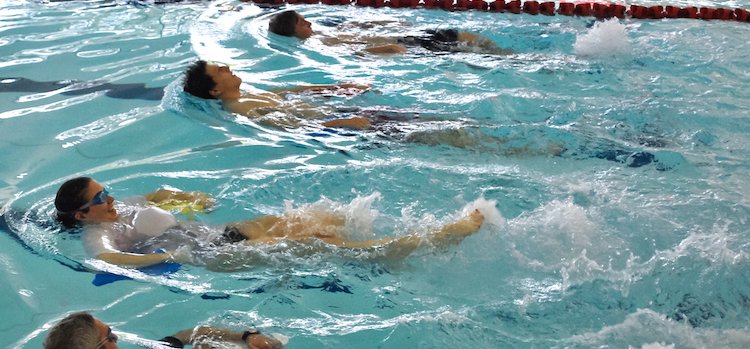 Without knowing when and how to breathe in during swimming, you technique falls apart very quickly. With no technique, you have to stop swimming very shortly to just take a breath.
That's why although some people can swim a short distance, they can remain fearful of deep water swimming or sea.  For those who don't know the basics which include breath control and floating and being relaxed, panic can easily set in. More so, if weak swimmers are not close to the poolside. Heightened anxiety may lead to muscle tension and potentially sinking.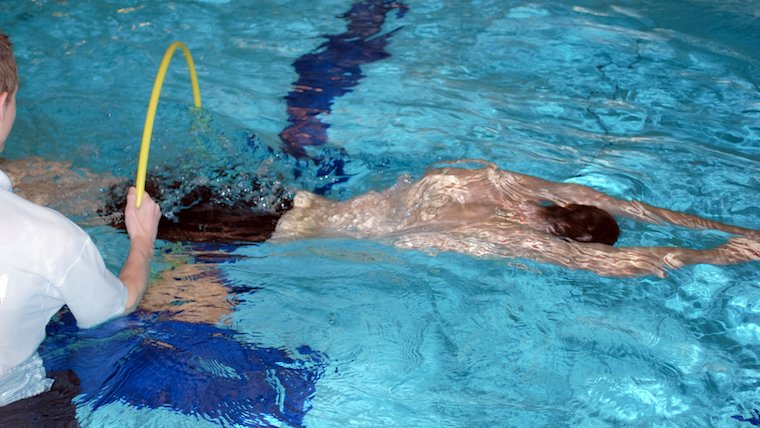 So, if you have had a go at it and you still cannot swim, it's time to get back to basics and book some lessons.
Private Adult Swim Lessons in Wimbledon and Wandsworth
Have you been thinking about learning to swim?
Fancy learning to swim but, you would like to have full attention from a swim teacher who can mold every lesson around your needs?
If yes, we have good news for you!
We have a great team of swim teachers who know how to teach adults to swim specially how to teach private adult swimming lessons. Teaching adults is very different to children.
For teens and adults we provide private swimming lessons; we offer private lessons to absolute beginners  (16+ years old) all the way to advanced swimmers who are preparing for a triathlon event.
We also offer summer intensive adult private swimming lessons or private adult swimming crash courses in Wimbledon and Wandsworth.
Whether you are not fully at ease with water or still struggling to swim comfortably, please do get in touch, we can help you this summer.
To receive regular swimming tips and future blogs, please sign up to our newsletter.
The content of this blog was created by Marjan Moosavi, founder of Blue Wave Swim School.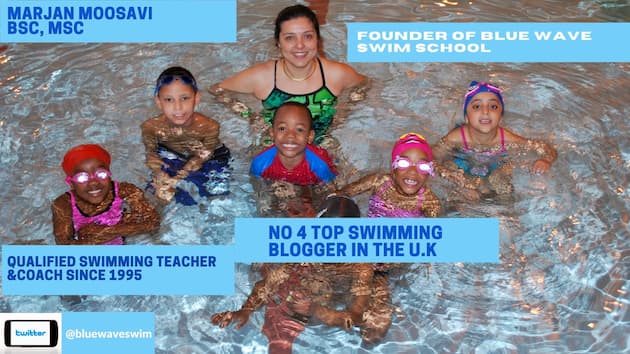 ---