Building Happy & Life-long Swimmers – French Style!
My journey to discover how Blue Wave Swim School's learn-to-swim programme and children swimming could continue to improve took me to Paris recently.  Attending the French Federation for Aquatic Activities for Early-Years & Leisure (FAAEL) 's 35th anniversary international congress in April  was a great opportunity to deepen my understanding about the French approach children swimming.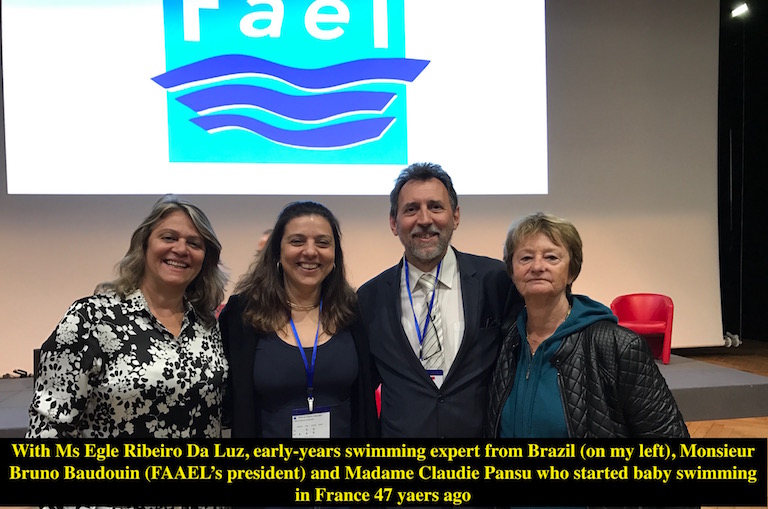 Some of the the world's most renowned swimming specialists attend FAAEL with representatives from France, U.K, Switzerland, Brazil, Romania and China. Swimming practitioners, swim school operators, medical doctors, child psychologists and authors all presented over the four day event. The quality of the presentations-which were all translated into English simultaneously – made this conference for me, outstanding.
What did I learn?
FAAEL believes baby, toddler and pre-school swimming classes, practices and exercises should be about encouraging movement in water to support physical development, parent-child bonding and to instill a love of water.
FAAEL's aim is to keep children engaged with water-activities as early as possible but also to have fun and instilling life-long healthy habits of staying active in water. FAAEL believes in the early-years (infants, toddlers and pre-schoolers), swimming classes should be unstructured but obviously supervised. 'Parent & Child' sessions should be under close supervision of a fully qualified facilitator but, free-flow and around each child's needs.
The importance of having patience when you are building a trusting relationship with water came across at the conference very strongly. Children must start early but learning needs to happen through having fun in water with parental support.
'Parent & Child' swimming classes should offer a good mix of easy learning and serious fun.
Several speakers showcased how different games can offer learning opportunities in the water at different stages of a child's life.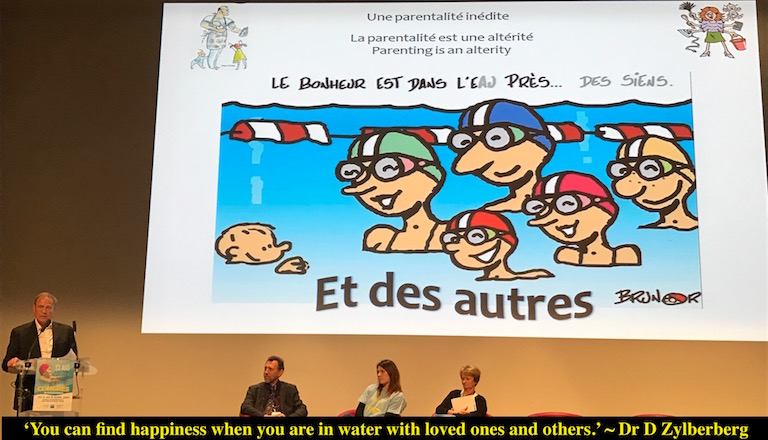 Dr Zylberberg, a baby swimming expert and a clinical psychologist, believes children learn through trial-and-error.
Dr Zylberberg said: 'Error is not the opposite of success, but it's the requirement for successful learning.'
So under 6-year-olds shouldn't be instructed during their children swimming sessions, only facilitated to learn for themselves with the support of their parents and qualified facilitators.
What did I learnt about children swimming and how to keep them engaged?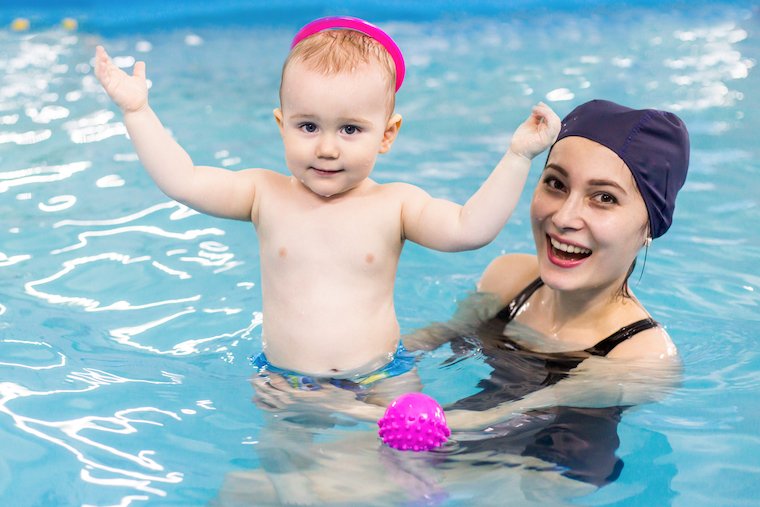 Swimming needs to start early in life but, to keep young kids engaged, a swimming programme teachers and swim schools must do the following:
Priority one is to help a child feel comfortable in the water
Games and toys give children opportunities to discover the water for themselves and get used to the feeling and moving in water in a fun way (game-based learning)
Mix the process of learning and games in a way that through play, children can overcome any fear of water (discovery learning)After feeling confident in water, initially it's about enabling young children to simply travel through the water.
Introduction to the stroke development phase of swimming and learning the correct techniques can start after 6 years of age
It is an interesting approach which is backed up by science and the experience of many practitioners in different countries but it also has pros and cons.
Advantage & Disadvantage:
FAAEL's philosophy is to build life-long swimmers, children need to be engaged in swimming as early as possible through fun activities and obviously any potentially distressing activity in the water should be strictly avoided.
If children, particularly babies, are repeatedly stressed in water they may learn to associate water in their young minds with source of stress and discomfort and there is a risk that this association could last a lifetime.
For example, adult-initiated submersion or forcing children to float on their backs without proper adult support is not advised at all and I agree with this.
It is all about letting children to have time and opportunities to figure things out for themselves in water under the proper supervision of a qualified facilitator and in the safety of parental control. All done in a warm pool with plenty of toys and different floats, mats and gadgets (no armbands though).
Although this approach is very effective in the long run, it won't serve people who are after speedy results.
If the quality of children swimming lessons was measured purely by how quickly a child learns to swim independently (without any floatation devices or adult support) and covering distances, and NOT by the level of enjoyment a child has in water, the French system would not be classed as 'effective'.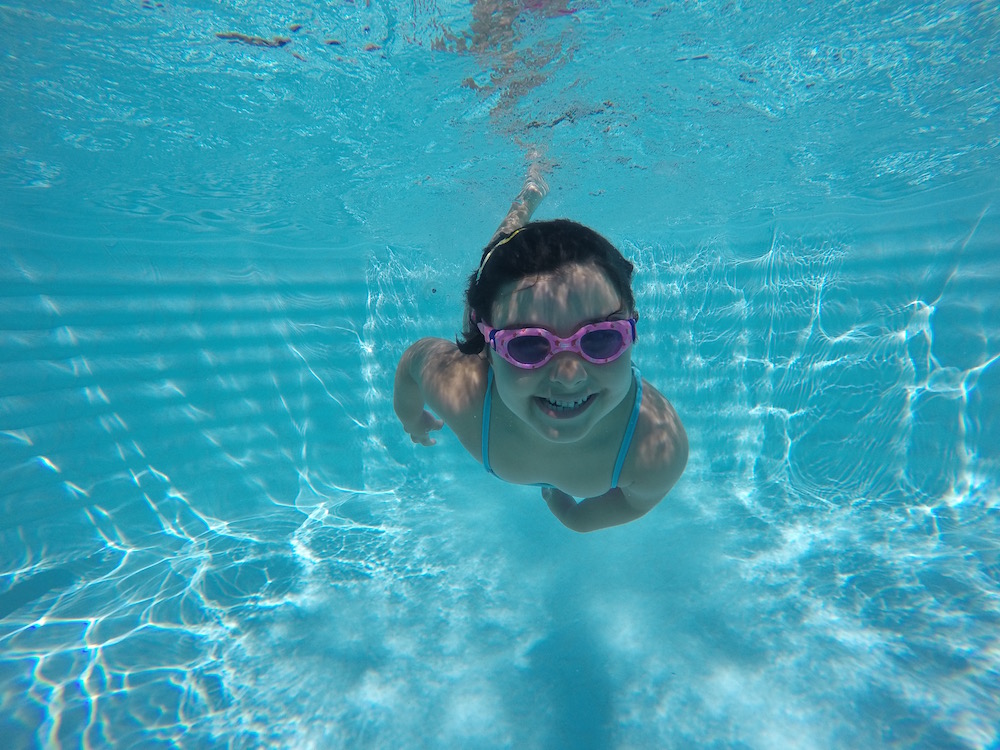 However, if one takes a long-term view on swimming and considers the potential of turning all children to life-long swimmers, this approach works.
Takeaway Message:
We all learn better when we enjoy the process of learning or 'having fun'.
However, in order to have fun and learn at the same time, the key requirement is a good teacher who has the knowledge and expertise to turn mundane swimming practices to serious fun.
Parental patience however, remains the key factor for any child's success in their own swimming journey.
You can also sign up to our newsletter to receive our next blog and swimming tips.
---