Swim Lessons for Adults!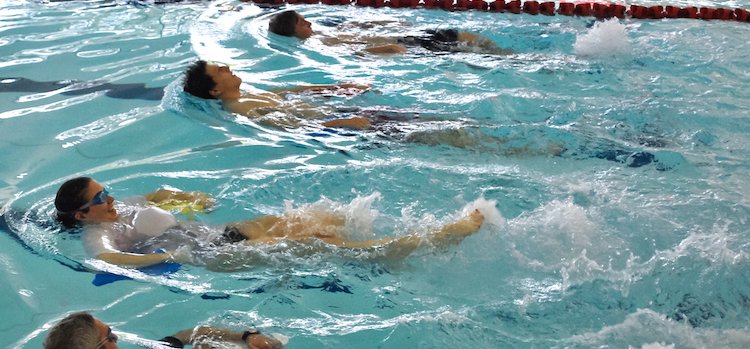 Harvard Medical School recommends swimming as one of the top 5 exercises for adults. No wonder, more and more adults looking for swimming lessons.
Mind you, majority of our adults who book swimming lessons have similar backstories.
Stories we hear a lot from our adult swimmers are either they never learnt to swim properly as a child or had had unpleasant experience with swimming lessons.  A below standard swim teacher or swimming in cold pool are common stories. Children with a bad memory of swim lessons, swim teachers and pool trips would normally stay away from swimming in their lifetime.
No wonder, many adults who join our classes normally have been put off from swimming in their childhood.
However, sometimes something triggers a return to pool.
In fact, their motivation for going back to swimming and taking lessons again varies.
Are you a beginners?
That is O.k!
Honestly, we have taught many adults who wanted to learn to swim from scratch.
Parents who after after having children, would like to be able to enjoy family swims, beach holidays and trips to water parks.
Recently, more adults have started going back to swimming after decades of being away from swimming. For active adults who tend to have picked up many injuries over years of dry-land training, land-based activities could get hurtful. After age 40 or 50, land-based exercises like running can get too much for the joints. So, water-based activities and specially swimming are good substitutes for adults who want to stay fit but want safer activities and doing something more gentle for their joints.
Some adults just want to learn how to be more water confident so they can enjoy swimming when they are holidaying.
Triathlon has grown in popularity over the last 20 years massively.  More and more adult swimmers want to learn to swim or get better at swimming to participate in triathlon events..
So, whatever your motivation is, we have both the expertise and experience to help you to achieve your goals, no matter where you are starting your swimming journey from!
If you are starting from complete scratch and unsure about being in water, we have a history of helping adults with an old water-phobia and teaching them to be comfortable and relaxed in water and finally swim.
Are You A Nervous Swimmer?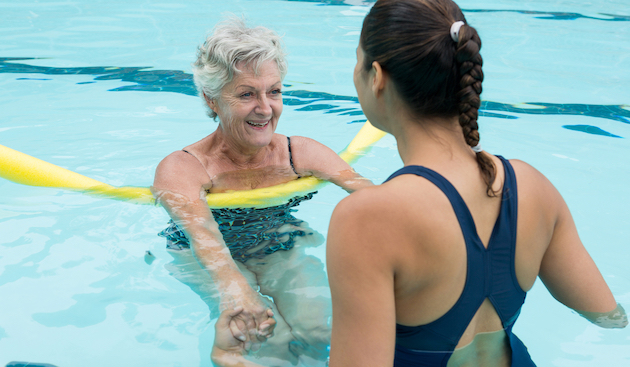 Hear it first-hand on what one of our adult swimmers says about our private adult swimming lessons.
Backstory: Peter was a very healthy, active and sporty guy when he joined in 2019.
Peter was a complete beginner and had a difficulty to be relaxed specially in the deep-end of the swimming pool, where he couldn't touch the bottom of the pool.
Peter never learnt to swim as a child.
At last, in my mid 40's I decided to find time to learn how to swim. I could not be more happier with my choice of the school. Absolutely brilliant swimming school for all ages and abilities. Thanks to James, only after few 1-2-1 lessons I could see the progress and started to enjoy swimming. Despite his young age James is a born teacher. I'm loving every minute of the learning experience. ~ Peter Chopyk (January 2020)
If you are O.K to swim in the shallow end, but, get panic when water goes over your head, we can help you getting you water confident.
Don't let lack of water confidence stop you from going for a swim.
It is simple!
Just let us help you with swimming outside of your comfort zone.
You Can Swim but, you feel your stroke needs to improve
If you are a good swimmer but can only swim with one stroke, you are not alone.
Many adults in the U.K can only swim breaststroke. Want to learn a new stroke or improve your front crawl their technique, hear it first-hand of how we helped Chris in Summer 2019, who really wanted to improve her front crawl technique and learn to do the bilateral breathing correctly ad efficiently.
I'm a confident adult swimmer who wanted to improve my stroke efficiency. Marjan has been superb at spotting exactly what needs to be done in order to improve. She's a pleasure to be with and really knows her stuff. It's clear that she's not delivering just a one size fits all programme but really making the effort to respond individually. After only two lessons, i can already see improvement. Highly recommended.
Also, even good swimmers sometimes need to seek professional advise to polish and perfect their front crawl technique for triathlon
Swimming with correct stroke technique is what you need to be able to lap swimming. Many adults have had swim lessons with us because they want to learn a specific stroke. For example they want to swim Front Crawl (with proper side breathing) or Breaststroke or Backstroke.
Private Adult Swim Lessons
You can choose between one-to-one and semi-private lessons. The option of semi-private can be only offered if you would like to share your swim lessons with a friend or a family member.
Currently, we have no adult group lessons and very unlikely to add it to our programme anytime soon, post Coronavirus pandemic.
More about Private & Semi-Private Swimming Lessons
Other Ages and Swimming Abilities