Finalist for 2018 Business Award-Healthy Workplace in Merton
Blue Wave Swim School is a finalist for the 'Healthy Workplace' award
Merton Best Business Awards celebrates the best of the local businesses operating in Merton Borough at the prestigious Wimbledon Lawn Tennis Club in Wimbledon (SW19) this week. These awards are sponsored by Merton Chamber of Commerce.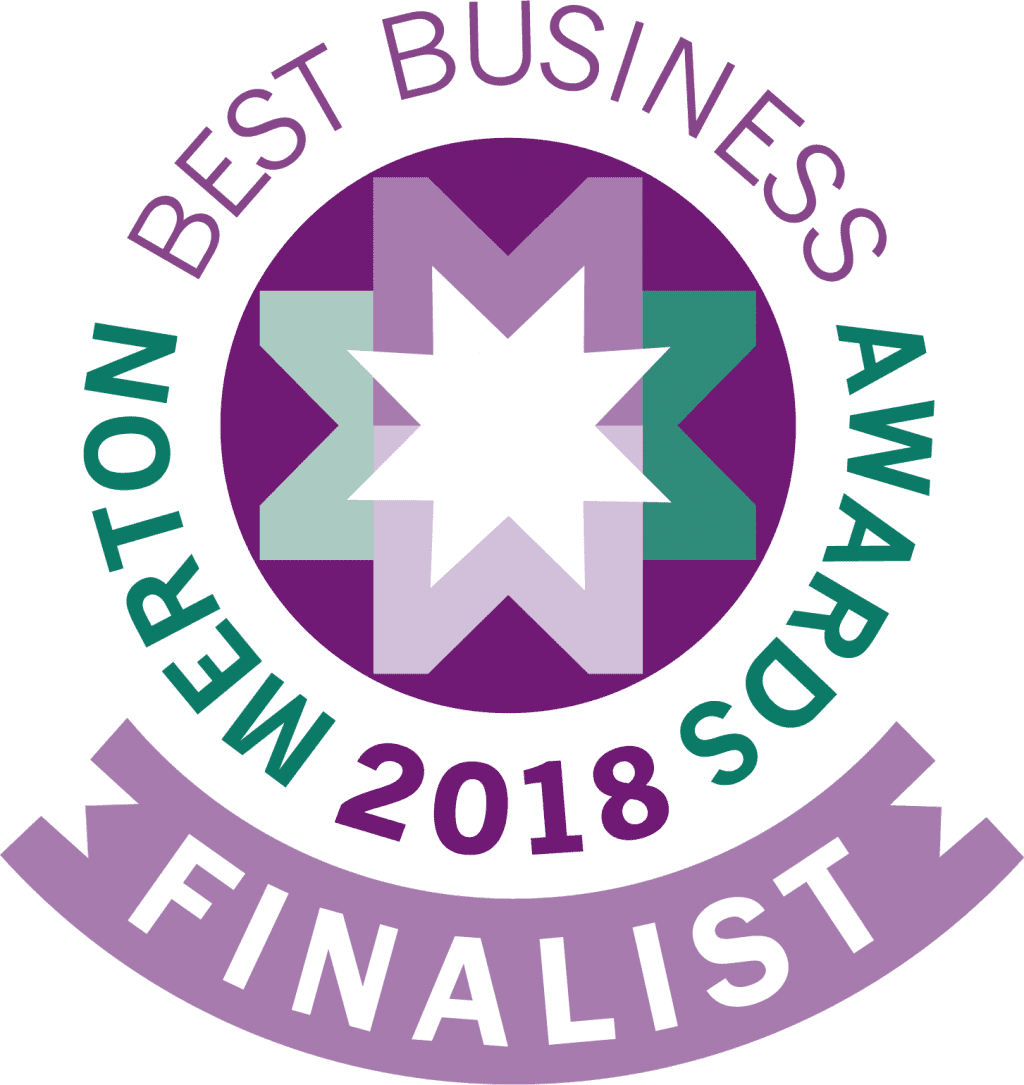 Why do you need to know all that? Because our lovely swim school is a finalist in two categories. Although it's always a thrill to be recognised for doing a good job by just being a finalist when we found out that Blue Wave Swim School has reached the final of the Merton Best Business Awards for 'Healthy Workplace' was hugely joyful. Why? Because, this is at the heart of what we do since the beginning.
The Healthy Workplace category finalists had to present to a panel of expert and experienced judges evidence across all levels of the company, demonstrating a commitment to a healthy workplace.  An expert panel has concluded that we have created a healthy and supportive environment for our staff (swim teachers), families and swimmers. 
In this article, I'd like to talk a little about why we put so much value on a healthy workplace, and how we put our values into practice.
Creating  a Healthy Workplace Is Important for Having Good Swimming Teachers 
Of course, we're not just in it for the awards. At Blue Wave Swim School, we have a genuine belief that creating a healthy and supportive workplace is important because only in such enviroument everybody can be happy.
Focusing on the wellbeing of our team of swimming teachers means we have a group of happy swimming teachers and can concentrate on what they like to do which is teaching swimming. One of the biggest satisfaction for any teacher regardless of the topic that they teach, is to see the progression. Our swim teachers are passionate about swimming and teaching so, giving them the necessary time to help their swimmers truly progress is very important to us so, they are not rushed.
Keeping our teachers happy means we don't have big staff turnover which is very common in the teaching sector. That results into our swimmers having time to build rapport with their teachers.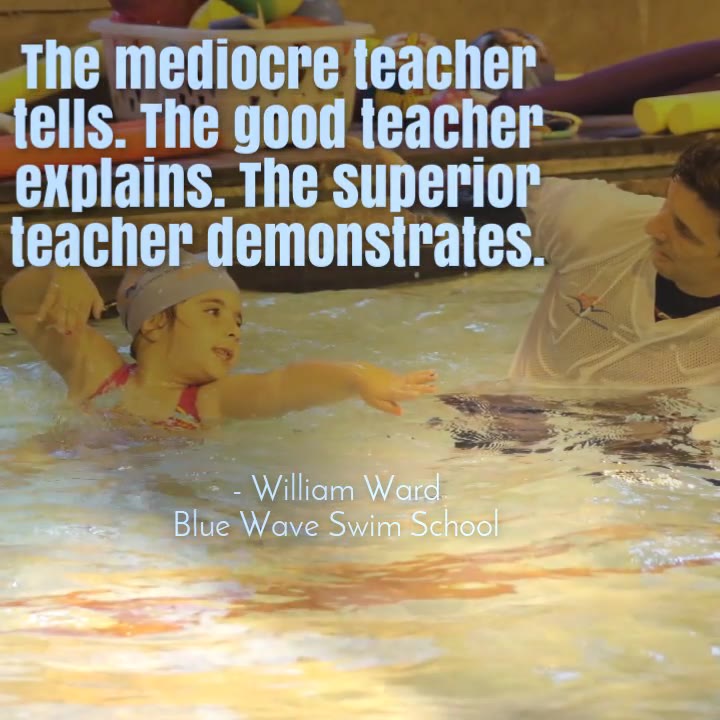 Keeping Good Swim Teachers means we can Establish a Rapport with Swimmers?
Happier teachers can create a better learning environment for swimmers, can communicate more effectively and be better representatives for our values  to our parents and local community.
In fact, our long-serving teachers build a strong rapport with their swimmers and the parents. They get to know their learners and families on a more personal level and therefore, they can provide a style of teaching that motivates every single swimmer. This gives swimmers and parents extra confidence about the process and it makes it more rewarding for teachers since they can see how swimmers develop over time. It's a happy-happy situation
When our teachers get to know the parents for a long time, our parents become evangelists for our swim school and spreads the word about our values to their own little communities.  Everybody knows that there is no better marketing tool than 'word of mouth'.
How we create Healthy Workplace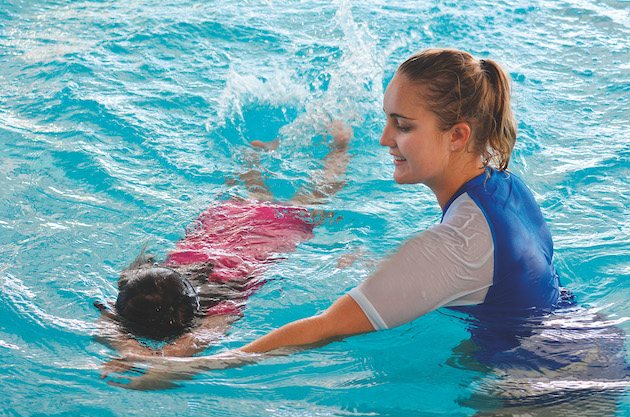 Now we know the importance of creating an environment that nourishes our team's wellbeing, here's how we do it.
At Blue Wave Swim School, we make a special effort to hire specialist swimming teachers. We want to employ teachers who are experts at working with fearful swimmers, special needs learners and learners who have not flourished at other swim schools. This creates a level of trust and support up and down the team. We know we can rely on each other's expertise and provide the best service to our clients.

We make sure our teachers regularly attend professional development courses and water safety training. This boosts their knowledge, gives them confidence in teaching and makes them feel valued. It's an investment in their career. Training is essential when you're teaching different ages of children. For example, if one of our teachers needs extra training to teach babies, we'll find a course for them straight away.
In the last year, we added an extra person to lifeguard beginners and non-swimmers during their lessons. This way, teachers can concentrate on teaching, knowing the essential lifeguarding aspect is taken care of.
Finally, we support our staff when difficulties arise. We don't leave our team to deal with tricky situations on their own. We never ask teachers to teach any learners if they're not 100% confident that they possess the necessary skills. We also encourage our teachers to work collaboratively with each other to develop new approaches.
Why Healthy Workplace Is Important
"Clients do not come first. Employees come first. If you take care of your employees, they will take care of the clients." ~Richard Branson
Because we have created this environment, with professional staff who feel supported and empowered, it means we can provide a unique level of service to our customers.
We cater for all learners, including children with special needs and people who have had traumatic experiences with water earlier in their lives. These are the learners who can't benefit from the traditional learn-to-swim methods delivered by a standard swim teacher who hasn't had the right training. These are the learners who have not succeeded at other places but flourish at Blue Wave Swim School.
We keep our classes small, so every learner gets the personal attention they need to progress. Age, ability, past experiences, physical and psychological ability do not matter at Blue Wave Swim School. We can teach everyone how to swim.
Did we win?
It's an honour to be named as a finalist for the Healthy Workplace award. We'll let you know whether we won as soon as we find out on 20 Sep 2018!
Or call 020 8090 1415 
---