Children who are 3 years old and above, could join our lessons which don't require their parents to be in water with them. For our group lessons, children are grouped based on their swimming abilities. See below for information about different stages of our group lessons.
Pre-School (3-5 year old) Beginners       
Suitable for children aged 3 to 5 years old.
These classes offer children their first experience in the water without a parent.
Beginners lessons are about teaching the basic skills of swimming like safe entry in water, kicking, floatation and breath control.
Lessons are structured but teachers also use play and fun water-based activities to develop the independence necessary for the next level.
To join these classes, a child should be happy to be in the water and ready and able to follow instructions from a swim teacher.
Children are expected to participate in both group and individually-based activities.
These classes are NOT suitable for children who are nervous about getting in water independently or swim without their parents.
Beginners (5+ year olds) Classes
Suitable for children who are 5 years old and above.
This class is for non-swimmers but, to join beginners group lessons, a child should be happy to be in the water. This class is NOT suitable for children who are nervous when they are in and around water.
Unable to perform skills mentioned below for the beginners+ classes.
Beginners+
Suitable for children who are: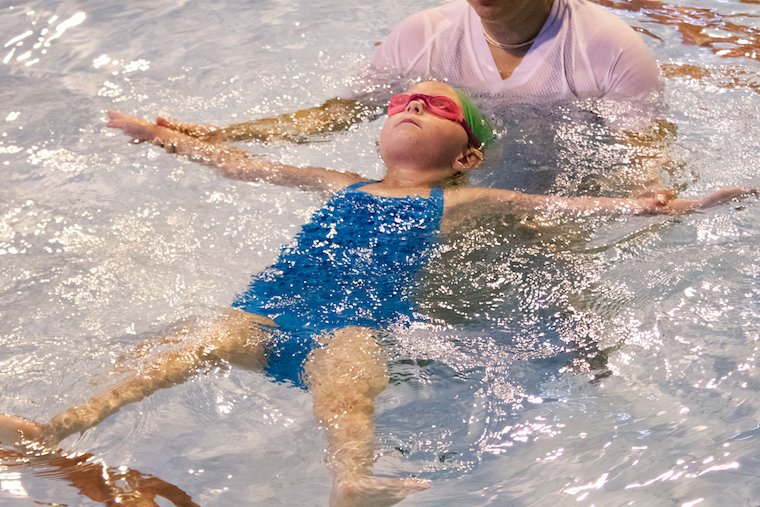 Confident in water and can travel in the water up to 5 meters on front and back without touching the bottom of the pool (it doesn't have to be done with a recognisable swim stroke).
Happily put face in water and blow bubbles and can voluntarily submerge (take their heads under the water).
Can float on front and back.
Can get into the water and exist from the pool safely and confidently.
Make a supervised jump in the water to an adult with or without support.
Able to kick both on front AND back holding a float (at least 10 meters).
More about Group Swimming Lessons (3+)
Other Ages and Swimming Abilities