Baby Swimming Lessons and Toddler Swimming Classes in Putney
For parents who still are working from home and fancy doing something fun during daytime with their little ones, we run baby swimming and toddler swim classes on Thursday mornings at the teaching pool of Putney Leisure Centre..
So, do you have a baby or toddler?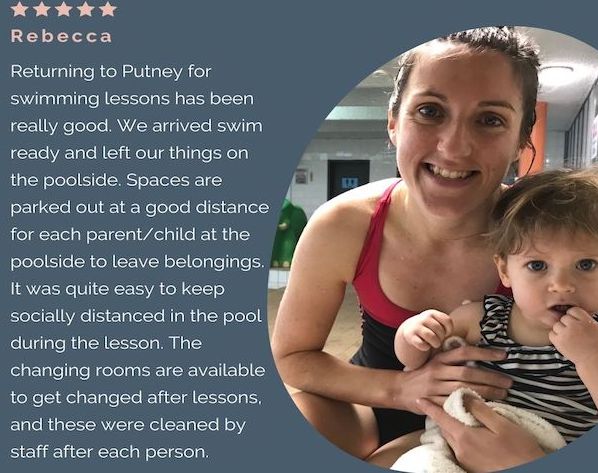 Would you like start swimming and get ready and confident for summer ?
If yes, come & join us for on Thursday mornings at 10.30 am at Putney Leisure Centre's teaching pool (SW15 1LB).
'Parent & Toddler' & 'Parent & Baby' classes are suitable for children 4 months upwards.
Every child must be in water with an adult.
Complete the form below to express your interest in booking our baby and toddler swimming class.
New term of baby swimming lessons and toddlers swimming classes at Putney Leisure Centre runs from 22 April 2021 to 22 July 2021.
Lesson Time & Fee for 2021 'Parent & Child' Swimming lessons at Putney Leisure Centre
Lessons time is at 10.30 am
Fees:

Block of 7 lessons  is £125.00.
Block of 9 lessons  is £159.00.
Ongoing weekly lessons till  Thursday 22 July 2021 (no lesson on Thursday 3rd of June 2021)
Thursday Parent & Child Swimming