Why You Should Take Your Baby or Toddler Swimming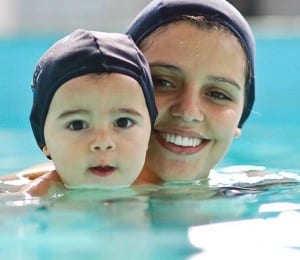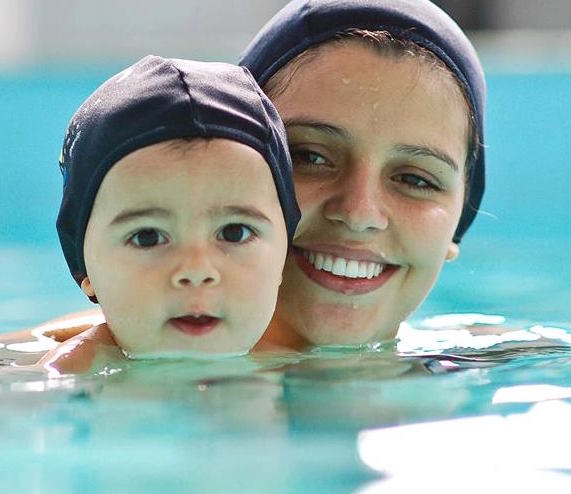 From a very young age you can do swimming lessons with your child, but you may still ask yourself why do I need to do swimming? Why participating in swimming activities with my child should matter at all when there are so many other choices? Wouldn't be better if I waited till my child is 3 or 4 years old, and then have a swimming instructor  teaching my child?
Before talking more about the positives of baby and toddler swimming classes, let's share a sweet little true story with you:
'Parent & Child' swimming classes was the starting point for an Olympic gold medalist and American star swimmer; Missy Franklin. "My mom was terrified of the water," Missy Franklin said. And her mum didn't know how to swim 'til much later in life, so she didn't want to pass her fear of water to baby Missy. So Mrs Franklin introduced baby Missy to swimming through baby swimming classes and the rest is history!
Bond With Your Child Through Swimming Classes!
The benefits of 'Parent and Child' swimming classes are going beyond the pool.
These classes are great opportunity for parents and their children to bond. It is so important for parents to form healthy and secure bonds with their children. Children who bond nicely with their parents, will have a healthy psychological development later on in life.
Science tells us that involvement of parents, specially fathers, in the first months of a child's life, plays a significant and important role in children's overall development.
Surveys have shown that the early father-child bonding, helps the better development of language ability and cognitive skills which means children will become more social and they will have fewer behavioural problems at school, later on in their lives.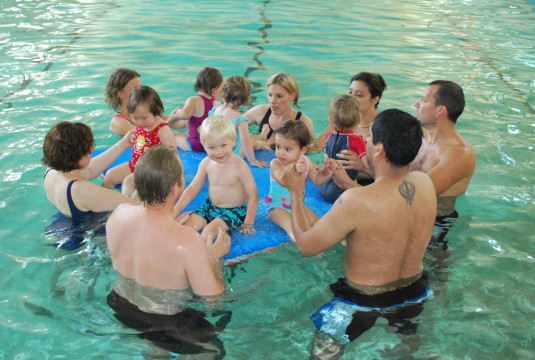 So, what activities child psychologists suggest- specially to fathers- to do for healthy parent-child bonding? Here are some examples:
1) Undertake daily bath routine
2) Changing nappies and put clothes on your child
3) Allow your baby to touch you in the face and making faces for them- babies go crazy for funny and strange expressions
4) Speak to them, sing them songs and nursery rhythms and read stories to them to learn your voice
5) Play with them!
6) Do things together!
The main point that you can pick up, over and over, by reviewing the scientific research is, by participating in baby and toddler swimming classes, parents can have plenty of opportunities to do many of the suggested bonding activities with their babies and toddlers.
When you do swimming lesson with your baby or toddler, you will be changing their clothes, you will be singing nursery rhymes for them during the classes, and you will be speaking with them all the time. During baby or toddler swimming classes, a child will hear his/her parents' voices and will see their smiley face. Water is fun so parents and kids can have fun together-Yes, parent-child bonding is about doing fun thing together!
As your child's water-confidence grows, a lifelong pattern of learning will also form and this is a great way to give your young child ahead start not just in water but, in life!
How good is that???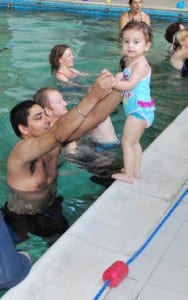 At Blue Wave Swim School, nothing speaks to our hearts more than the happy smiles of our children and their parents in the water!  For more information about our baby swimming lessons and toddlers classes in south west London (swimming lessons in Wimbledon and Wandsworth).
---