The Benefits of Early Years Swimming For Children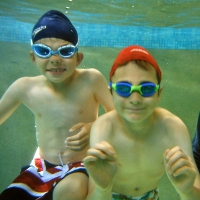 A group of scientific researchers in  Australia have shown that participation in swimming lessons benefits the overall health and well-being of children.
The results of a study at Griffith University in Queensland has revealed that children who learn how to swim at a young age have physical, social, intellectual and language development advantages compared to non-swimmers. Children who had started swimming as babies and toddlers have gained so many physical and cognitive advantages from swimming lessons when they were compared to kids who hadn't. The advantages were far more than what had been anticipated by the research team.
Professor Jorgensen said this study was the largest of its kind in 30 years and stated: "swimming children were anywhere from six to 15 months ahead of the normal population when it came to cognitive skills, problem solving in mathematics, counting, language and following instructions."
It is definitely very good news for us and I personally think it is more proof that swimming is a fantastic sport and children could benefit immensely from participation in a structured "Learn-to-Swim" Programme.
If you are interested to read more about this new study, please follow the links below:
http://topnews.co.uk/215868-swimming-fosters-children-s-development
http://www.swimnews.com/news/view/8203
---