Benefits of Baby Swimming Lessons On Physical Development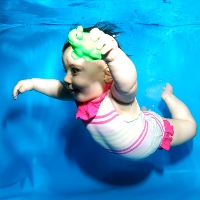 Did you know teaching babies to swim turns out to be more than just having quality time with you baby in water and splashing around in the pool?
Baby swimmers who have participated in well-structured classes have better balance and are also better at grasping at things compared to non-swimmers. This difference persists even when children are five years old, when babies who have been taught to swim still outperform their peers, research from the Norwegian University of Science and Technology (NTNU) shows.
Prof Sigmundsson from NTNU and Brian Hopkins, a professor of psychology from Lancaster University, have shown that baby swimming is good for developing balance and movement in infants and young children. Prof Sigmundsson and his colleagues' research results were published in the May 2010 issue of Child: Care Health and Development.
We are not surprised at all by learning the outcome of this study. Because, we had known already that humans learn through their bodies from birth. So, giving babies a nice gentle envirounment (water) in which they can practice different physical activities like kicking, paddling, catching and throwing, it could only benefit their physical development. In our baby classes we use plastic, soft and colourful balls and toys (like the green frog in the picture) to practise catching and throwing with babies and toddlers. So, now we have scientists also proving the importance of baby swimming for boosting the physical development of young children….how good is that?!
We are more than happy to spread the word.
Would you like to see a clip about our baby swimming lesson? We thought so…
Baby-Swimming-Lesson-Blue-wave-Swim-School from Blue Wave Swim School on Vimeo.
---