"A man is not learned until he can read, write and swim" ~ Plato
Swimming is for life. From babies all the way through to adults, we want to enthuse everybody to learn to swim, get better at it and achieve new skills and goals.
So, we offer swimming lessons for babies of 4 months of age and upwards and cater for different swimming abilities, from novice to advanced swimmers. As well as offering lessons for different stages of learning to swim, we offer different class formats; group, private and semi-private in south west of London.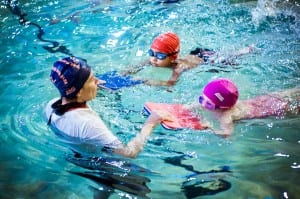 We have developed a clear 'learn-to-swim' pathway for all children to progress through different stages of our programme so, your child doesn't have to leave our school after reaching certain age or swimming ability. We group students based on their abilities and age groups. We care about the quality of our swimming lessons and keep our class sizes small. Our enthusiastic and expert teachers have the ability to select and apply teaching methods most suitable for different age groups and abilities.
We strongly believe that the initial swimming learning experience is very important and that is why we have structured lessons with clear goals to teach even the basic swimming skills correctly and thoroughly right from the very start.
Marjan Moosavi, Founder
Marjan Moosavi founded Blue Wave Swim School in February 2010 following decades of experience in sports science and coaching.
Teaching Philosophy
Everyone can learn to swim, but, everybody is different and everyone learns at their own pace. Many years of academic research in addition to decades of experience have shown that not even twins learn at the same pace when it comes to swimming.
At Blue Wave, we strongly believe that teachers need to have different approaches to deal with different learners and one size does not necessarily fit all. We believe the quality of the learning experience is highly dictated by the quality of the teachers. Hence, we pride ourselves on the fact that a great deal of time and energy goes into finding the best possible team of qualified, experienced and enthusiastic teachers to deliver our lessons.