Swimming Pool in Southfields for School Holiday Crash Course
We use Aspire centre's swimming pool in Southfields, London (SW18) for our school holiday
crash swimming courses.
We offer 1:1 swimming lessons and semi-private (1:2 and 1:3) lessons at this pool for 2022 February Half-Term break.
2022 Summer Holiday Crash Course;  Four weeks of 5-Day Summer
Crash Courses Will Run From
➡️  Monday 25th July to
➡️  Friday 19th August 2022
.....................................................................................................................
How To Get to Aspire Centre Southfields Pool:
Address: Aspire Centre in Southfields, Southfield Academy, 337 Merton Road, London SW18 5JU
This pool is conveniently situated at 337 Merton Road next to Southfields Grid in Wandsworth, Southwest London. It is Only 6 miles away from Wimbledon village in Merton.
With public transport, it is 10 mins walk from Southfields tube station (on District Line) and only two stops away from Wimbledon and 3 stops from Fulham Board way station.
Bus 156 can take you directly from Wimbledon or Clapham to the doorstep of Aspire centre.
Free car park access for all clients and a good disability access.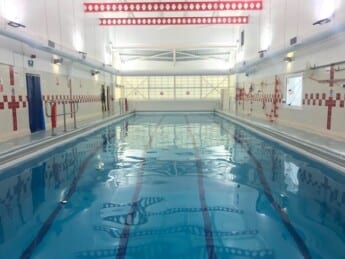 Swimming Pool's Size, Depth and Other Specifications:
Aspire Centre at Southfields has a 25 metre indoor heated swimming pool.
Water temperature is set at 29°C throughout the year.
Swimming pool is a three-lane pool allowing plenty of space for stamina training and lane swimming for children who are stages 4 of NTPS and above
The shallow end of this pool is 1 meter deep, which makes it a perfect pool for teaching complete beginners.
The maximum depth in the deep-end is 3 meters. The safety required for teaching and practicing diving in England requires a minimum depth of 1.8 meters. So this pool is suitable for teaching and practicing diving and other personal survival skills with our swimmers (stages 4 and above of Swim England NTSP)
We have all the teaching aids like kickboards, pull buoys, floats, and noodles at this pool. No need to bring along any additional swimming teaching equipment to your lessons. However, if you wish to bring your own kickboard or noodles, that is O.K.
All swimmers, male and female, wear swimming hats for hygiene reasons.
Post COVID-19: All swimmers, male and female, must turn up beach ready for our classes. We offer children and adults lessons at this venue. For adults only 1:1 swim lessons.
If you'd like to bring along your swimming equipment to our lessons, that is fine.
Changing Facilities and Showers for Swimmers
There are two spacious and separate changing rooms at this venue. One is allocated for boys/men and one is for girls/ladies' usage. Both changing rooms have their own warm showers and toilets.
Lockers:
There are lockers at this facility but, we recommend not to use them post corona due to the increase in touch points. However, you can bring your own wipes and clean the lockers before and after using them.
Hangers/Hooks:
Each changing room has plenty of hangers/hooks to hang clothes and bags. Changing rooms don't have baby boards , so,  if you need a baby board for changing, people are advised to bring their own changing mats. There is a separate toilet for people with disabilities at this facility.
Observatory and Waiting area for Parents
This swimming pool has an observatory area with glass windows with chairs available for parents/carers and siblings to sit down and observe swimming lessons with social distancing.
There is also a reception area with a reception who will check every visitor's body temperature before entering the centre. Please don't expect to be able to purchase any food or drink (hot or cold) at this venue.