What England #2 lockdown AND Vaccine Mean for Swimming
What happened to Swimming In 2020?!
This year has been a rollercoaster with the coronavirus. In England, swimming pools had to shut in March for the first lockdown and remained closed till 25th of July and then again shut for the second lockdown on 5th of November for 4 weeks.
#2 Lockdown was announced to last till 2nd of December, however, with the drop of infection rate in London and the recent fantastic news of the discovery of COVID-19 vaccine, we are so hopeful, normality can resume soon after this lockdown.
We are under #2 lockdown till 2/12/2020, though a bit softer than the 1st lockdown. Although the government order was to shut pools, gyms and sport facilities in England, but, there are some exceptions
So I thought many people may want to know if ALL pools don't have to shut, which ones are still open.
and when we can re-open, so here are more clarification.
All gyms 🏋️, public and private 🏊‍♀️  pools (indoor and outdoor) and leisure facilities ⛹🤸  have to shut from 5th of November 2020 due to #2 lockdown till 02/12/2020 in England.
The Exceptions To Pool Closure Rule in #2 Lockdown
1) Elite 🏊‍♀️  swimming and diving can continue.
2) 🧑‍🏫  Schools which do have their own swimming pools (boarding or non-boarding) can keep school swimming running as part of school curriculum and run their own after school sessions but, only to their pupils.
3) Hospital pools and physiotherapy private pools which offer aqua-physio rehab session can stay open. 
4) Open water swimming is permitted but, I guess it's a bit too cold for open water swimming.
What Are Our Plans After Re-Opening of Swimming Pools
It was great to run our swimming crash courses in October and we were grateful for all swimmers who joined us at Aspire Centre in Southfields just before the #2 lockdown came in force. You can see how much everyone was happy with our classes over October school break.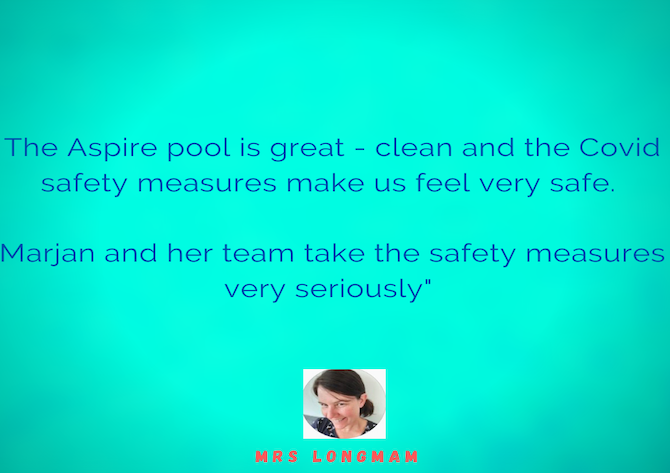 I trust we are in agreement that swimming cannot be taught via Zoom calls, so we have to wait for pools to re-open
But, let me assure you that we cannot wait for the re-opening of pools hopefully straight after 2nd of Dec 2020. We are hoping we can resume our baby and toddler classes in Putney for a few weeks in December soon after lockdown ends.
However, our other swimming classes are more likely to resume in January 2021. Nonetheless, we are here to answer any questions that you may have. So, please feel free to 
---