Easing of Lockdown and Swimming 
The arrival of June brought the lift of some restrictions in England. It is nice to see primary school children have returned or are returning to schools and some water sports are permitted including open water swimming.
No doubt that you have seen or maybe experienced busy beaches last week. Weather is sunny and no homeschooling because of half-term break, people travel miles to get to the sea. Open water swimming, canoeing and paddling; it's good we have some choices around sports that we could do in wild water.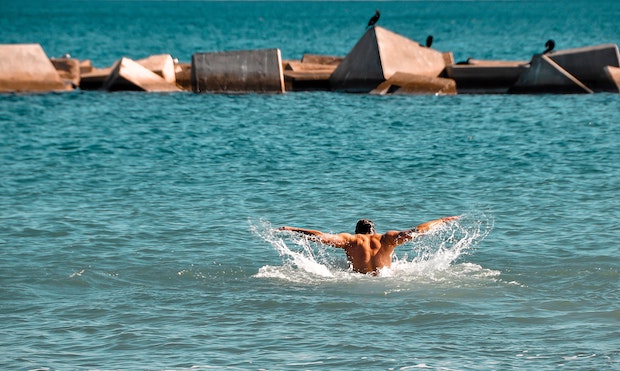 Swimmers could enjoy open water swimming in England since mid May. But, swimming in the sea is not exactly for everyone, though! Open water swimming needs not only a decent level of swimming ability and water confidence. Plus, you must tolerate  cold water temperature.
Dipping toes in cold water sea is nice but, enjoying swimming in it, it's not that common.
Water temperature could vary between 10-12 C at this time of the year. So, open water swimming anywhere alongside the English coast, would not be as easy as it looks in the photos.
So, it's fair that regular swimmers of all ages would want swimming pools to re-open.
Re-opening of Swimming Pools in Other Countries
In many countries both in Europe and other continents swimming pools have already re-opened their doors and swimming is back.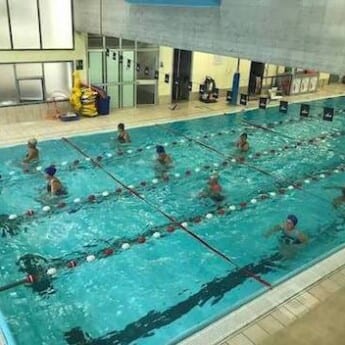 Swimming pools have opened after the Easter holidays in Italy. At first, it was only for elite and club swimmers but, from 25 May, swimming pools and gyms are open to the general public in Italy. Italy was one of the worst-hit countries by COVID-19. Swimming and aqua aerobic classes have started in Italy but, with social distancing rules observed (as seen the picture).
Couple of weeks ago, elite swimmers started swimming in re-opened swimming pools in France.
In Germany some swimming pools have reopened in May. Some German states have already opened their pools, whereas others will be following in the coming weeks. In Berlin all outdoor pools – both for doing laps and bathing – have been welcome swimmers again since May 25th. But, in some parts of Germany, pools are open only for lap swimming.
In Sweden- a country which rejected the idea of using lockdown to mange COVID19 pandemic-swimming pools and gyms have stayed operational. People in Sweden continue to go to pools and all aquatic activities continue to run with social distancing.
Swimming and even school swimming are back in Norway.
In Ireland, swimming pools are scheduled to re-open from 20 July 2020 in Phase 4 of easing restrictions.
In some parts the U.S and Australia some swimming pools are already open and many are planning to re-open in June.
Pools in England Post COVID-19
For swimming pools in England, any reopening will be part of the next phase of relaxation of lockdown which will be after 4th of July.
Swim England and other swimming related authorities like PWTAG and STA have been working to issue guidelines needed for re-opening of swimming pools and resuming swimming safely. The guidelines are expected to be out by 15th of June. So, it can give facilities at least three weeks to start preparing for re-openings.
Richard Lamburn, head of facilities in Swim England explained: "A lot of pools have never closed before so we've been providing the guidance and support needed to local authorities and operators to ensure they were safely shut down and maintained."
Is it Safe to Swim in Pools Again?
Professor Keith Neal, emeritus professor of epidemiology of infectious diseases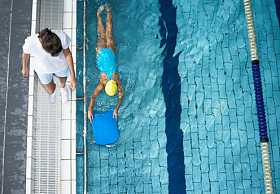 at the University of Nottingham, told the BBC that chlorine was "very easily able to inactivate most viruses including Covid-19".
So, like all sports, the major concerns are over the social distancing in swimming pools and overall hygiene of facilities.
Swimming involves public changing rooms, showers and the natural inclination to have conversations before and after swimming or swim lessons. So, we have to consider many safety factors before re-opening.
When Swimming Lessons Can Start?
Swimming lessons are popular activities for children worldwide and normally they are part of weekly activities when schools are open. Intensive summer swim lessons popular during school holidays, so, naturally, many parents would like to know, when kids can go back to their swim lessons.
Although guidance was still being finalised, Swim England chief executive, Jane Nickerson, announced recently 'Rest assured, though, children will continue to be welcomed into pools to learn to swim and enjoy the water safely.'
On the other hand, Chief executive of Swimming Teachers Association, Dave Candler, explained there could not be "one-size fits all" answer to personal hygiene and social distancing measures for the swimming teaching industry. Nonetheless, it seems most likely, smaller class sizes and less number of swimmer in each lesson could be how things will start off.
Swimming lessons are back in New Zealand and you can see how a swim school is managing their swim lessons in this clip.
Therefore, for us, we have to wait and see what the guidelines will say. Hopefully, the guidelines can answer all the safety-related questions which parents, swim teachers and aquatic professional are seeking the answers for.
P.S: The guideline for pools re-openings post COVID-19 was published by Swim England on 17th of June 2020.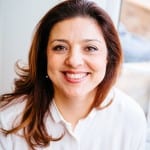 This article was written by Marjan Moosavi (owner and founder of Blue Wave Swim School).
Marjan has been a qualified swim teacher and coach since 1995 and holds an MSc in Sport Sciences. With  a competitive swimming background, Marjan is an avid sports fan and a health & fitness enthusiast (even in lockdown). Marjan also has been practicing Yoga for more than 20 years.
Published on 4 June 2020. Please direct all licensing questions to info@bluewaveswim.co.uk
---