Swimming And Swim Lessons Under Tier 2 of Restrictions in London
Swimming In Autumn And October Half-Term 🍂🍁🍁
After 6 weeks of re-opening of schools and offices in September, school October half-term break has arrived. It's time to think about half-term activities for your children.
In October, the government introduced a Coronavirus 'three-tier' system for England, which will be labelled as "medium", "high" or "very high".
The introduction of Tier 2 restriction in London as of Saturday 17th of October 2020, has caused so many parents to question if swimming and swimming lessons can continue in October and during school half-term break.
And, this is where we have some good news for you!
Swimming Under Tier 2 Restrictions
London is recently allocated into Tier 2, which has its own set of restrictions. However, if you are reading this blog, because you are wondering what is going on.
Fear not,….you are in the right place and here are more details to clarify the situation.
Swimming and swimming lessons in Tier 2 can continue as far as COVID-secure guidelines are followed.
For indoor swimming lessons, which is what we offer, the below should give you a more clear answer based on information published by The Swimming Teachers' Association (STA)
Under Tier 1 (medium):
Organised COVID-safe swimming lessons can continue indoors for:

All under-18s (so all children including babies)
Swimmers with disabilities
Over-18s in an educational setting (in swimming lessons) – this also includes baby and pre-school swimming (1 adult and 1 baby are classed as 'one' during the lesson while in the pool, but be mindful of social distancing outside of the pool).

Indoor pool-based activities, such as non-sport aquatic exercise classes like aqua aerobics, can continue in larger numbers based on the size of the venue, provided that participants are socially distanced and adults are in separate groups of up to six people.
All gyms and leisure facilities can stay open.
Under Tier 2 (high) Like London from 17/10/2020
As per the rules under Tier 1. So, to put it just simply swimming and swimming lessons can continue as it was under Tier 1 with no change
Under Tier 3 (very high)
As per the rules under Tier 1 and 2.
However, gyms and leisure facilities may have to shut depending on each local authority's approach to business closures.
So, as far as we know, if Wandsworth and Merton (that is where the swimming pools that we use are located) decide to keep the pools open, we can continue to operate with Covid-secure guidelines.
Therefore, our organised COVID-safe swimming lessons and any non-sport aquatic activities can continue indoors.
Simply, same as Tier 1 and Tier 2 restriction, our swim lessons can continue.
October Holiday Swimming Crash Courses
After the success of our summer crash courses at Aspire Centre in Southfields, due to popular demand, we will return to this pool for October Half-Term break, W/C Monday 26 October 2020.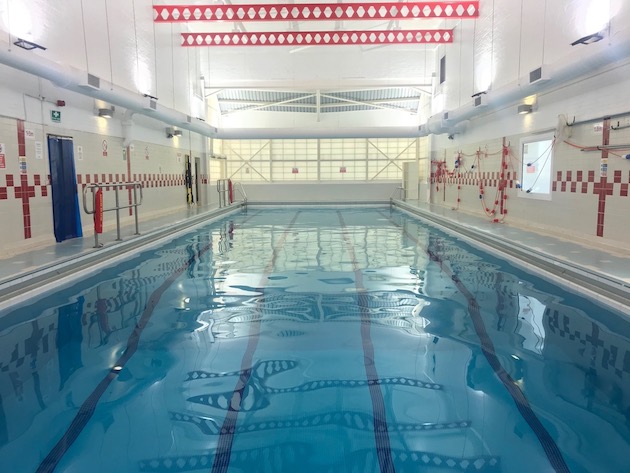 It is a fantastic and clean pool. It has all COVID-secure measurements in place to keep swimming pool and lessons safe.
Moreover, we'll offer crash course private, semi-private and group lessons (only for children who can swim at least 25 meters) at this venue during week starting Monday 26 October 2020.
Classes will run from Monday to Friday, from 9 am to 11 am.
If you are interested please get in touch as our booking is now open.
You can choose between one-to-one and semi-private lessons.
We offer semi-private if you would like to share your swim lessons with a friend or a family member and form a bubble with them.
Post COVID-19, we have no group lessons for non-swimmers and we are not offering group lessons for adults either
Due to social distancing rules, is very unlikely we will add beginners group lessons to our programme soon, post Coronavirus pandemic.
Weekly Lessons on Saturdays in Wimbledon
Wimbledon College is planning to re-open its pool after October Half-Term break.
We are hoping to re-start our Saturday lessons there in November 2020.
We would like to hear from you if you are interested in joining us for our Saturday afternoon lessons.
Join our waiting list by clicking the below button and complete our simple form.
After that, we will contact you in due course when we know for sure when our Saturday lessons can start.
This blog was written and published on 20 October 2020. Please direct all licensing questions to Marjan Moosavi by emailing info@bluewaveswim.co.uk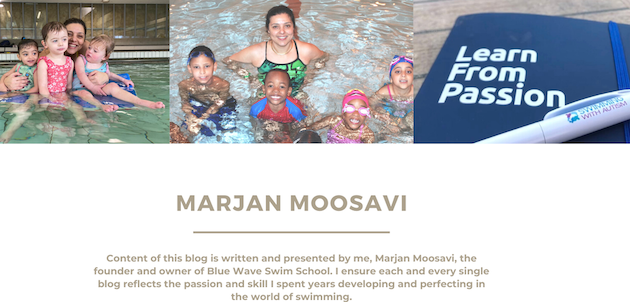 ---