Intensive Swimming Lessons for Summer in Wimbledon
Summer Holiday, Children and Swimming!
All schools soon will be out for summer and with seven weeks of free time to fill in for children, most families start getting some programme together for their children. To avoid your child spending most of his or her time watching TV or staring at a mobile device, it's important to keep busy doing fun stuff. Normally a healthy and fun activity which has an element of learning could be a perfect replacement for watching TV during holidays. But, what could be the best option?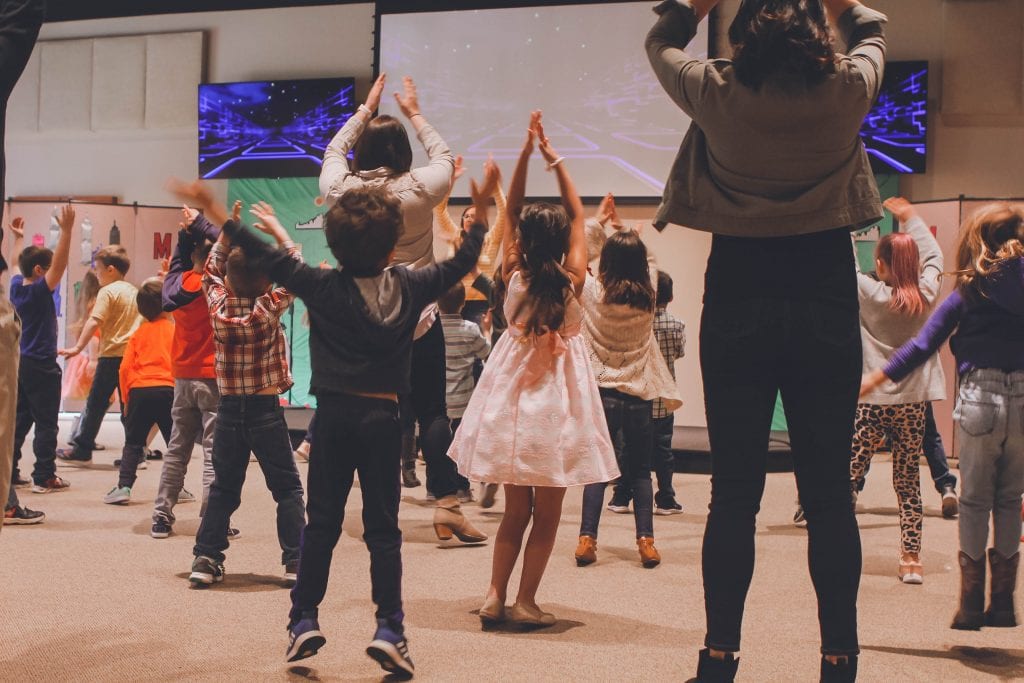 Some parents due to work commitments would like to choose the summer camps options which fill in most of the daytime hours for children. But, there are families who want to have some activity in the daytime without losing all of the valuable hours of daylight. If you are one those parents who would like to keep some hours free to go out and about with your children and explore interesting places like parks and museums over the school breaks, doing short summer courses and intensive lessons could be a great choice. But, with so many options for intensive summer courses, from drama to cooking, I'd like to tell you why swimming is an excellent pick.
Intensive Swimming Lessons over the Summer Holidays!
July is the time that most families start getting ready for their summer holidays. Doing some beach reading or some poolside sudoku are great ways to enjoy the warm summer days for parents. But, how about your children? Are they going to be in and out of the pool as you are reading your book? Would they fancy to get into the sea or play with other children in the water? Do they know how to swim? How about your?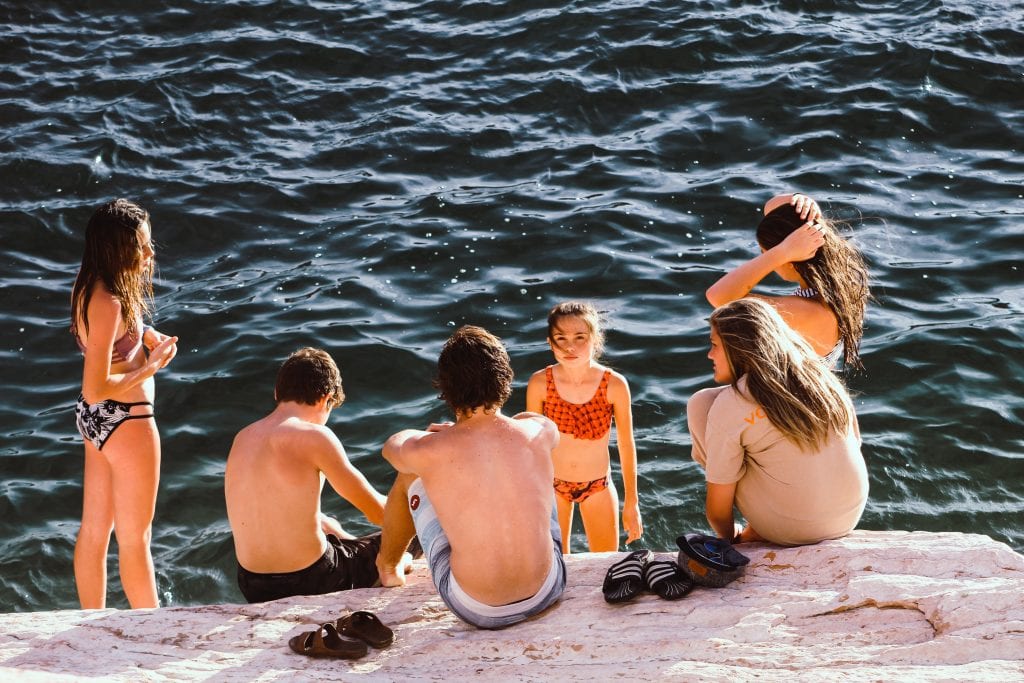 Summer means Swimming But, Not for All Though
According to a study done in 2015 by Swim England, 20% of men and 22% of women aged over 14 years in England cannot swim (almost 2.13 million adults in England) and every year, 1 in 3 children who leave primary schools (11 years old and above) are unable to swim.
That's a large number of people who cannot swim, and sadly it is those who don't know how to swim who cannot enjoy swimming over the summer and are more likely to get to difficulties in the water.
Spending time with family and friends in water is fun and memorable, but it's also important to be safe in and near the water.
Whether swimming in the ocean, off a boat on the lake or in the hotel swimming pool, ensure a great time for everyone in your family means they should know how to swim and be safe. There are a few common-sense rules that all experts agree upon to prevent drownings and all swimming experts around the world recommend taking swimming lessons is 'a must' for being safe in the water.
If your child missed out on weekly swimming lessons, no need to worry! You can try summer crash courses and have intensive swim lessons over school breaks to sharpen up your child's swimming skills.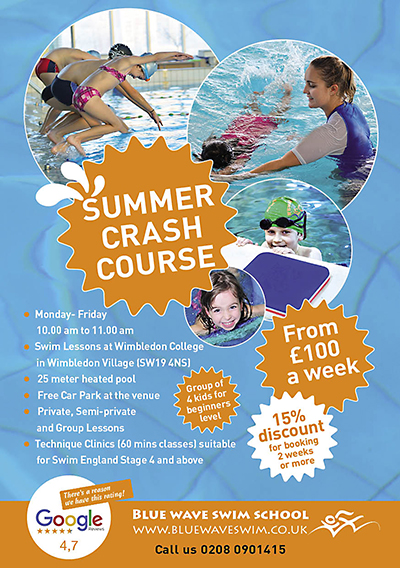 We have been providing swimming lessons in Wimbledon (London) for more almost 10 years so, we know a thing or two about how to teach swimming.
So, to be sure everyone in your family has a good time this summer, you can book your child or children in our intensive swim lessons in Wimbledon for 2019 summer.
What is a Swimming Crash Course or Intensive Swim Lessons?
'Swimming crash course' or 'intensive swim lessons' are common terms used for swim lessons delivered over the school holidays. Intensive swim lessons are delivered based on a lesson every day of a week-normally Monday to Friday- over the weeks that schools are on a break.
Whilst weekly swim lessons are based on one lesson a week when schools are open but, with a packed schedule that most children have these days, weekly lessons may not be practical for some families. So, the intensive swim lessons could be a great substitute or a good to complement weekly lessons. Taking a swim lesson every day over a week or two also has even shown to produce good results both for learning to swim and perfecting technique.
Summer crash courses are not just for children, adults can take lessons too over the summer!  If you like to improve your swimming skills before you hit the beach, consider doing adult intensive swim lessons with us this summer.
Why Choose Our Intensive Summer Swim Lessons in Wimbledon
We are the only swim school which offers summer swimming crash courses right at the heart of Wimbledon Village with an almost 5-star rating. There is a reason for our rating both on Yell & Google. Simply, we are good at what we do. Please read our reviews so, you know why to choose us!

Do you want to know how many lessons your child needs to learn to swim?
In this blog, there is a step-by-step explanation about how children learn to swim. From blowing the first bubbles to swim 200 meters continuously, is a bit of a journey. But, how long?!
If you have a child who is nervous about swimming, knowing how to help your child to overcome her water anxiety is important. So, find out more about how people can overcome their fear of water.

Are private lessons better than group lessons?

Many parents are interested in knowing if there are any real benefits in booking private swim lessons and if yes, what are they? Discover the pros and cons of both private and group swim lessons in this blog, before making your booking.
---