4 Amazing Benefits of Swimming Crash Courses
Swimming Crash Course in South London
This we completed our June crash course which was a 4-day intensive swim lessons ran between 1-4th of June 2021 at Aspire Centre in Southfields, Wandsworth, south London.
In our June crash course, offered private and semi-private lessons (for friends and siblings) to children including children on Autism spectrum as well as 1:1 lessons for adults

What are Swimming Crash Courses?
Crash courses include everyday swim lessons during weekdays over a week (or more in case of Easter holidays and summer holidays). So they are 4-day or 5-day swimming lessons delivered every weekdays over week(s) of school holidays. Lessons could be either 30 mins or 60 mins lessons.
Like weekly lessons, swimming lessons offered part of crash course have 3 main benefits:
Boost water confidence
Improve swimming ability by working on technique.
Improving stamina and swimming fitness
Keeping active and having Fun
In our school holidays crash courses, on the top of water-confidence and technique work, since we use a 25-meter indoor pool in Southfields, for more advanced swimmers, we also work on stamina and swimming fitness of our swimmers. Swimming fitness is the ability on swimming laps continuously without losing technique and getting tired. It is really the ability to do non-stop swimming.
We offer lessons for all levels including lessons for children with special needs in our crash courses. However, currently we only offer private (1:1) and semi-private (1:2 or 1:3) lessons.
We are planning to offer small group lessons for summer 2021 crash courses if after 21 June 2021 all pandemic-related restrictions as planned by the U.K government to be lifted in Britain.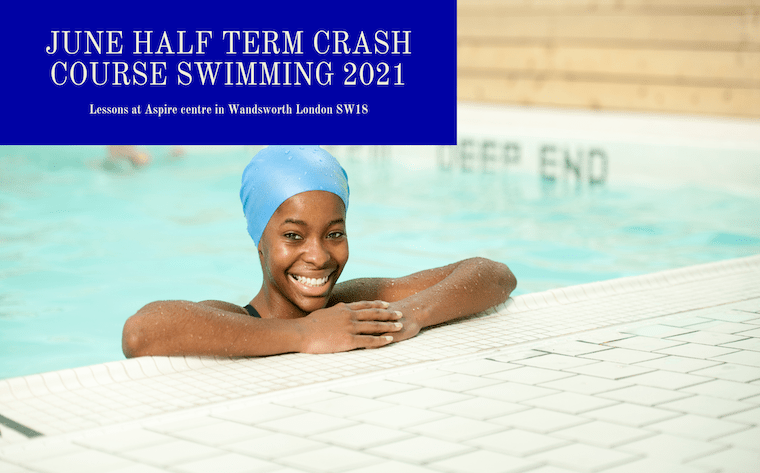 Who Can Benefit from Doing Swimming Crash Courses?
First and foremost, the intensive 4-day or 5-day swimming lessons can benefit the younger and less experienced children.
Crash courses can be amazingly useful for children who were novice or had a bit of swimming lessons (for example the beginners plus stage) pre-covid and had to missed out on swimming for 14 months in 2020 and 2021, due to 3 lockdowns and pool closures.
In particular, pre-school children who couldn't even start their swimming lessons can benefit a lot. Between 3 and 4 years old, is the time normally most children start having lessons independently from their parents. Young children can get a massive confidence boost with crash courses. Parents can use intensive swim lessons as an opportunity to catch up.
Novice children can be nicely introduced to water and start off their swimming in a 5-day course. For those, who are not complete beginners, benefits can be learning the basics like kicking correctly and floating on front and back confidently.
Mind you, crash courses are just for beginners. The more experienced and advanced swimmers (Swim England stage 4 and above) can do the 30 or 60-minute lessons that are more focused on breath control, body position in water, and technique correction. Working on learning and correcting one/two of four competitive strokes; Front crawl, Backstroke, Breaststroke and Butterfly, can be a great benefit of crash courses for advanced swimmers.
For swimmers who already have a solid swimming foundation and technique, improving stamina is also part of intensive lessons.

Regardless of age, swimming is a fun activity and keeping active everyday with swimming is a healthy way to add fun to your day.
Next Swimming Crash Courses in Southfields for 2021 Summer Holidays
If school holidays intensive swimming lessons or crash courses sound interesting, get in touch with us to book either for yourself or your child(ren). Summer is the swimming season so, don't miss out.
To enquire about our summer 2021 crash courses please get in touch with us.
---