Our 2016 Summer Term in Words, Pictures and Actions!
Our Summer Term ended in mid-July, with many of our swimmers making amazing progress towards moving up to the next level of our classes for next term. You can see our Summer Term 2016 in photos and action here!
In the final lessons of the term, we put on loads of fun and useful activities, since it is our tradition to prepare our swimmers for their holidays. We care about educating our children on how to stay safe during the summer holidays, as most children will find themselves close to water at some point, such as by a lake, the sea or a swimming pool.
We are committed to our mission, which is to produce well-rounded swimmers, and that's why teaching water safety skills is part of our Learn-To-Swim programme.
If you're wondering what else we teach in our lessons besides techniques that are helpful for the summer holidays, here are couple of examples.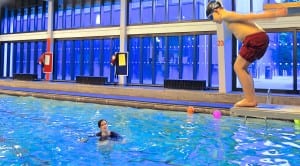 Diving
There is more to being a competent swimmer than just swimming laps. Diving is one of those skills that any swimmer should have. Not only does it look cooler to dive in rather than jump, but it's also a very important skill to learn.
Diving is the most efficient way to get in the water for a competent swimmer, and all swimming races start with dives.
If you have been watching the 2016 Rio Olympic Games, you will have noticed that the starts that elite swimmers do at the beginning of their races are just more technically sophisticated dives.
Therefore, diving is always a big focus in our lessons, from Improvers level (equivalent to the ASA NPTS Level 4) upwards. We are very lucky that both of the swimming pools we use for our lessons (Wimbledon College and Burntwood School ) have sufficient depth in their deep ends (deeper than 1.8 metres) to make it completely safe for teaching and practising diving with our swimmers.
Treading water
Treading is one of the survival skills that everybody should learn, so that they can keep their head and mouth out of water while in a vertical position for a long period of time, in order to stay safe. In our lessons, we regularly practise different jumps (like straddle jumps) and treading water.
These are essential skills to have in order to keep the body afloat, either during fun water activities (like playing waterloo) or in managing an accidental fall into open water or a swimming pool, especially if one is fully clothed.
A fun fact about treading water:

US Marines soldiers have to learn and practise treading water when they are in their full uniform and boots and are holding a rifle, in order to pass the required fitness test.
There are some children who are leaving us…
Although we are pleased to say that most of our swimmers are staying with us into next term, there are always a few swimmers that we sadly have to say goodbye to.  This is mainly due to southwest London having a very transient population.
Due to his family's relocation, Bill left Blue Wave at the end of last term. Here is his story.
Bill joined our group lessons at the Beginner+ level in September 2015 at our Burntwood School venue. When he joined us, he was able to travel in water for about five metres, but couldn't do it with any recognisable strokes. He was not able to float on his back confidently and his legs would sink when he tried to kick. He wasn't confident about jumping into the pool without his swimming teacher's support. However, after a full year of group lessons with us, he improved immensely. After three terms of swimming lessons, he was able to stay on his back confidently and swim both backstroke and front crawl comfortably across the pool – even in the deep end. This is what his mum (Mrs Rachel Morgan) told us at the end of the Summer Term 2016: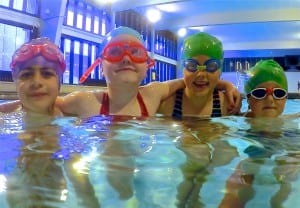 "On behalf of Bill, I would like to thank you for the patience and encouragement during his time with Blue Wave. I love your approach to swimming and have enjoyed watching Bill grow in confidence in the pool. He has never, ever said he doesn't want to swim!"
…And those who are staying with us
The majority of our swimmers stay with us for many terms. The reasons for this vary from one family to another, but when we talk to our customers the main reason we hear time and time again is the progression that they see as a result of our lessons. Ricardo is one of the children who has been with us for many terms, and this is his story.
Ricardo started off his Learn-to-Swim journey with us as a complete beginner when he was a pre-schooler in 2011, at the Burntwood School venue. However, as we had to go through two periods of pool closure due to renovation and maintenance, he discontinued his lessons. He returned to our group lessons again in January 2015 at the same venue and has been having swimming lessons with Blue Wave continuously ever since. He is now a Level 6 swimmer and can swim 200 metres continuously. This is what Ricardo's dad (Mr Richard Long) has got to say about us: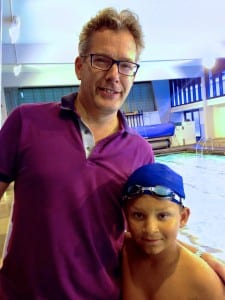 "My nine-year-old son has been having lessons at Blue Wave Swim School for several years and is now very confident in the water. He enjoys the lessons and I really like the balance between having a disciplined, energetic approach,  with working on good technique for all the strokes and making the lessons enjoyable. He is always enthusiastic when going to his lessons and his swimming style continues to improve. Thoroughly recommended."
Have a lovely summer!
---