Learning to Swim, Austrian Style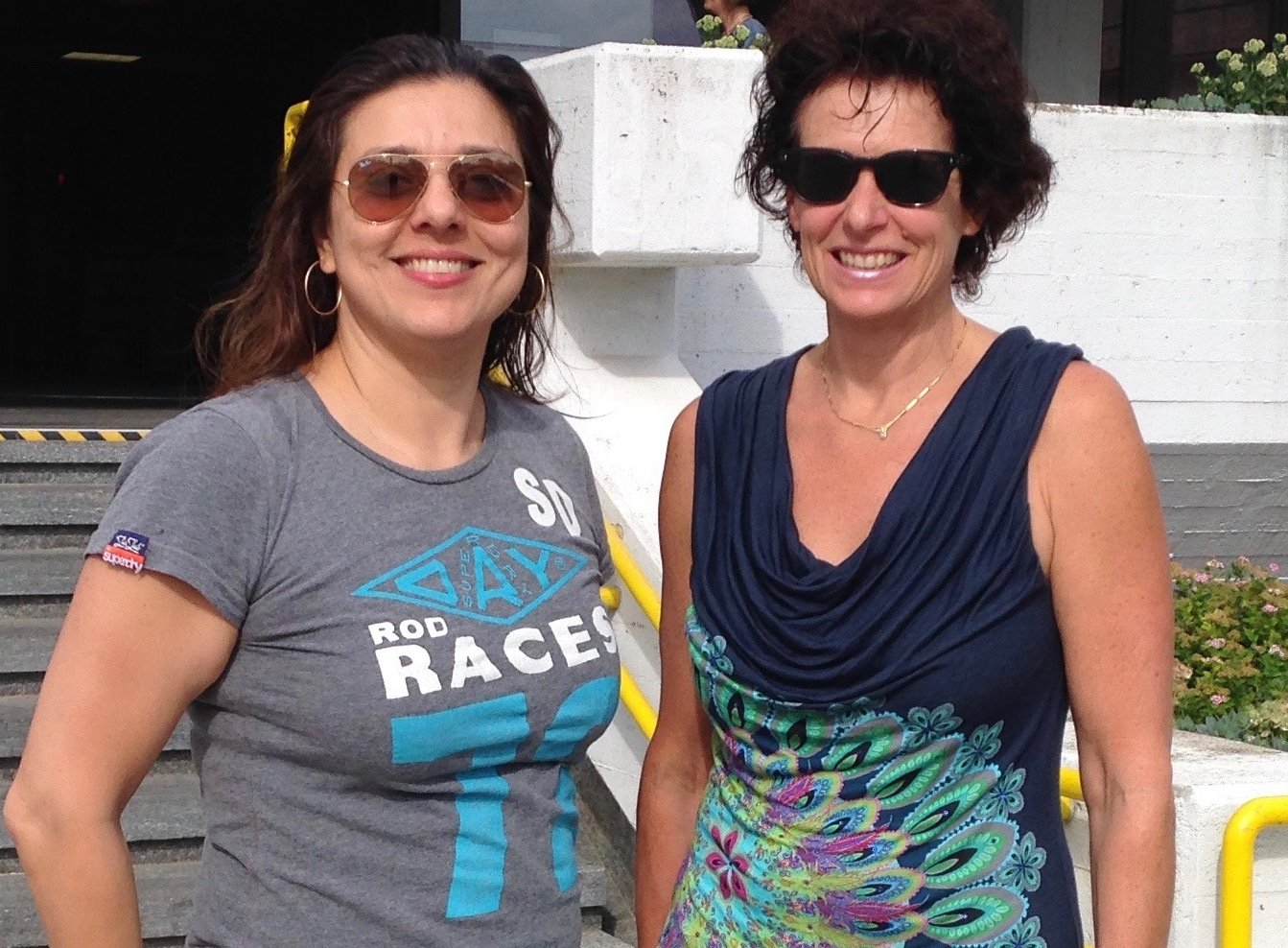 Embracing the idea of continuously improving our teaching practices and the learning environment for our swimmers is one of our core values here at Blue Wave Swim School. There are many different ways of doing this but peer-observation is my favourite method. Connecting with experts and sharing ideas and skills is the best way to get better at what you do.
There's a great deal to discover about novel approaches to teaching swimming from colleagues all over the world and it's important to keep up with the latest trends and developments. I recently travelled to Austria to find out how swimming is taught there. Also as a London based swim school with a diverse client base, knowing how swimming is taught in different European countries helps me and the team to cater more effectively for those swimmers who join us from other countries.
Visiting Eisenstaedter Babyswim Association (EBA) in Austria
Eisenstaedter Babyswim Association (EBA) in Eisenstadt is operated by Mrs Anitra Boszotta, who has been teaching swimming to babies, toddlers and pre-schoolers (0-6 year olds) since 1995 when she was inspired, after the birth of her second son, to pursue baby swim teaching as a career. Previously Anitra taught PE for 15 years at secondary schools. A few years after her training from Dr Rosengren in Sweden she founded the Austrian Babyswimming Association (ABA). I met Anitra first at 2014 Nordic Baby Swimming conference in Oslo (Norway) and again in 2015 at the 2nd international baby swimming conference in Austria.
My takeaways from EBA's swimming lessons:
Learning to Swim with water-safety at its core!
In Austria, they encourage children to learn to swim as early as three months old.  Families generally spend their summer holidays there by lakes and in and around open water. Therefore, the risk of drowning or having a near-drowning experience is high especially amongst children aged 2-5 years old.
One of the EBA's aims is to ensure children become familiar with water as soon as possible as well as making certain that parents know how to handle their young ones in water safely and confidently.
Anitra strongly believes if you facilitate an entire family experience of enjoying the water together, you can produce swimmers who, while they may not become Olympians, can definitely enjoy leisure swimming for a life time.
How Classes are Structured & Taught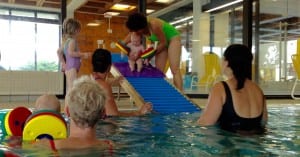 1) Many activities in babies' & toddlers' classes are structured around familiarisation: getting into water, jumping in, controlling their breath, submersion and learning the basic swimming skills like floating on their fronts and backs. In the toddler and pre-schooler classes, the structure is centered around travelling in water safely and confidently. Like our lessons, they also use games, toys, nursery rhymes and songs to engage young children and add fun in classes.
2) Like most swim schools, baby and toddler swimming classes run in the teaching pool with warm water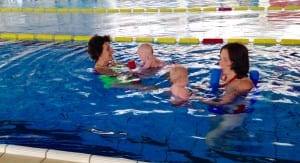 temperature (~ 32 C). However, in June lessons, and as part of the preparation for the summer holidays and open water swimming, some parts of the infant classes were delivered in the main pool where water temperature was much cooler (~ 27 C).
3) At EBA, inline with ABA recommendations, baby swimming starts from three months and children stay in the classes with parents till they are around four years of age.
4)The focus is first on water confidence and then delivering basic skills to travel safely in the water without too much emphasis on technique. Being safe in the water is the initial goal.

5) Building technique and stroke development starts from 4 years of age, when a child is completely water confident and can balance and orient themselves in water effectively.
6) Children start having swimming lessons on their own with just a teacher in the water, first in the teaching pool in groups of up to six children.  Children learn front crawl and back stroke as the first strokes and once they've mastered this for about eight meters (general a width), they move to the main pool.
7) After the age of six, EBA swimmers can join the local swim club and develop competitive strokes and become club swimmers should they wish.
Differences between EBA and Blue Wave Swim School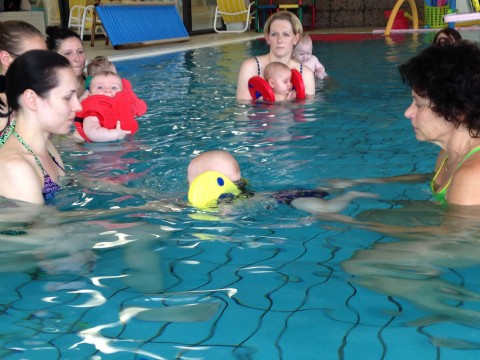 1) EBA, uses float discs (also known as Delphin Armbands) during their baby lessons. This is to support them during practices such as gliding and they're gradually removed when that support is not needed.
At Blue Wave, we don't use arm bands, period! We think babies and toddlers are better supported in the water by their parents/carers and we slowly work to build up confidence.  We also think that any added props to babies' bodies reduces the benefit that comes with the natural sensation of being in water to an infant.
2) EBA introduces breaststroke kicks much earlier than we do. Although we introduce our children to breaststroke and dolphin kicks as part of contrasting activities and during playtime, proper practices don't start after kids have mastered flutter kicks on their front and back.
3) At EBA children need to leave the school by age 6 and will need to develop the overall swimming skills needed to be able to swim all four competitive strokes and swimming long distances continuously elsewhere (i.e, the local swim club). Whilst such an approach to teaching swimming is NOT unique to EBA, at Blue Wave Swim School our system is very different and technique focused. We teach our swimmers all four competitive strokes and our goal is when our swimmers leave us (around age 8-9 years old), they can do the followings:
a) swim all four competitive strokes; front crawl, backstroke, breast stroke and butterfly

b) swim continuously for 200 meters

b) tread water for 30 seconds

c) performing other aquatic skills like sculling and diving

Different stages of our learn-to-swim programme is about building up the skills swimmers need to achieve the above goals.
Lessons Learned
Teaching swimming properly requires a great deal of knowledge about how techniques can and should be developed as well as experience of how theory can be put into practice for different children and age groups. Therefore, seeing other experts in action from all over the world and benefiting from their experience is invaluable.
Although I don't agree with everything in EBA's program, I think Anitra had a number of good ideas. Building on my visits to other swim schools, EBA left me with some positive ideas on adjusting our own pre-schooler programme, which although similar to theirs has subtle differences.
I don't believe there's a single defined 'right' way to teach swimming, the approach needs to be fluid depending on the ability and confidence of the individual.
But there is one certain and constant and that is that the quality of the teacher is everything.
Thank you for reading this blog and if you are interested in receiving more swimming tips, please sign up to our newsletter.
---