Happy World Teachers' Day To All Swim Teachers
Since 1994, 5 October has been named the World Teachers' Day commemorates the anniversary of the adoption of the 1966 ILO/UNESCO recommendation concerning the Status of Teachers.
Unesco's statement for World Teacher's Day includes : '…,we  celebrate  the  work  of  dedicated  teachers  around  the  world  who continue to strive every day to ensure that "inclusive and equitable quality education" and the promotion of "lifelong learning opportunities for all" become a reality in every corner of the globe."
Celebrating the Great Work of Our Swimming Teachers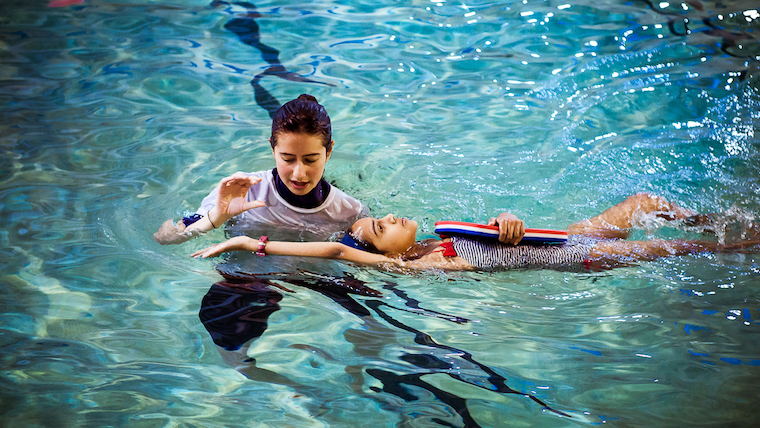 World Teacher's Day is a good opportunity to celebrate the work that all great swimming teachers do passionately around the world specially at our swim school.
Together, in the last 10 years, Blue Wave Swim School's teaching team has delivered swimming lessons for thousands of individuals-from babies to 65+ year old adults. We have served people from more than 30 different nationalities at our swim school in south-west London. People come from all four corners of the world to reside in southwest London and every single one of our swimmers has a unique personality with a unique story. So, our swimming teachers know how to understand every person's needs and shape their lessons based on each individual's needs and aims.
Nonetheless, regardless of age and swimming ability, our swim teachers teach a valuable key life skill. Many of our swimming teachers have even inspired some of our parents to become swimming teachers themselves. That is why we think every swim instructor and coach in our team does an incredible job- we are so grateful to have them you.
What all of our swim teachers and coaches have in common is a passion to teach everybody to swim and do a good job every day. They seriously want to help every individual to become a confident swimmer and their passion is completely aligned with our swim school's mission.
This is why swim teachers love to be part of our team.
But, swimming is taught all over the world and there are plenty of good swim teachers around. Previously, we have talked about the signs of good swim teachers and coaches like being qualified and creative. But, if you like to know more about what makes a swim teacher great here more signs to look for:
Great Knowledge About Learning to Swim Process:
Lolly Daskel in her book 'The Leadership Gap' explains: 'The more you comprehend the details the better you will understand the process.'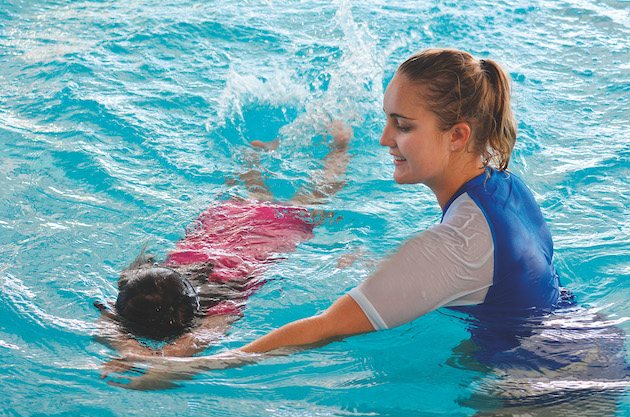 Learning to swim is a step-by-step process with no shortcuts. Therefore a great swim teacher must have a good wealth of knowledge about how swimming should be taught and its learnt from beginners level all the way to the final stage of learning which we call pre-club level which for us is the end of stage 7 of Swim England. Because of the good breadth of knowledge, a swim teacher can break down a complex process to more simple stages which are easy to follow and easy to connect later on. A good swim teacher never seeks instant results. Knowledgable swim teachers also know how to:
Notice the mistakes of swimmers without critiquing or mocking their efforts
Appreciate efforts of swimmers without comparing them to each other
Listen to swimmers and get their feedback without objection
Answer swimmers' question
A Teacher Must Know How To Manage the Learn to Swim Process
A good swim teacher and coach also has plenty of patience and great ability for problem-solving. Being patient in the context of teaching swimming means, a swim teacher understands what swimmers must learn at different stages of learning to swim. They also know only through repetition and quality practices you can produce any meaningful results. So, they preserver till swimmers get the practice right without cutting any corners.
A good swim teacher is looking for quality practices and enough repetition in every lesson and for every practice. If a swimmer doesn't get it the right first time or the second time, or even after dozen of tries, a teacher must and can find different approaches to encourage his/her class to repeat the skill till it's done correctly.
Every swimmer learns differently and a good swim teacher is a good problem-solver. It means he/she has the patience, the knowledge and creativity to teach a set of skills in many different ways.
Losing patience is not a good sign for any teacher but, finding other ways to teach the same thing differently is. That is why creativity in teaching swimming is also very important.
Ability to Break Down A Complex Skill to Simple Movements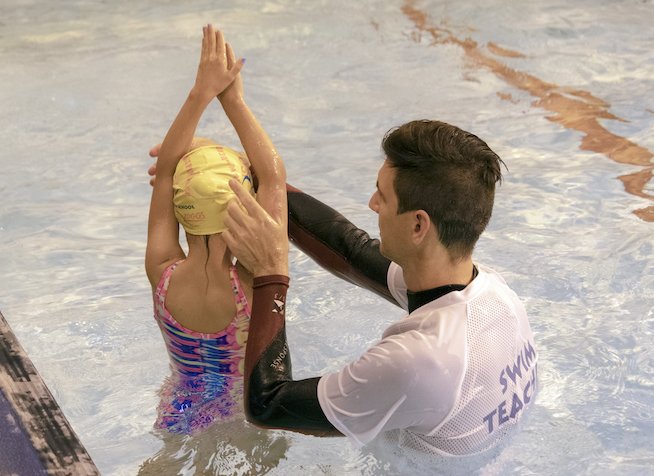 An example of a simple skill in swimming is blowing bubbles. Complex skills are skills where the swimmer has to process lots of information and put lots of simple movements together in a coordinated manner. The complex skill has many sub-routines (or parts) to it and requires a lot of feedback and coordination during its performance. Examples of complex skills in swimming are push and glide or side breathing (bilateral breathing) in front crawl.
Good swim teachers and coaches know how to break down a complex skill to simple movements and when to teach different movements- the sequence of teaching is really important. Later on, they know how to add them together in a way that swimmers can learn and perform a complex skill.
Other Characteristics and Skills of Good Swim Teachers and Coaches are:
Good communication
Ability to relate to others
Flexibility
Trust
Interest in others
Ability to learn from peers and colleagues
Good judgement
Open mind
Honest
Blue Wave Swim School is an award-winning swim school in southwest London and what makes it great is the quality of its teachers and coaches.
If you are a swim teacher or coach and you are living in London and would like to join our vibrant teaching team, please do get in touch with us.
We are always on the lookout to have like-minded swim teachers to join our swim school.
---