Half-Term Break Finished – Swim Lessons Resume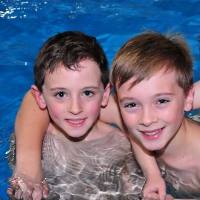 October half-term break is finished and our swimming lessons are back today, Monday 5th of Nov 2012. Hope everybody had a wonderful break and we are looking forward to seeing all of our swimmers again. I thought providing some updates about how our swimming lessons are going this term might be interesting.
This term we are offering swim lessons on Mondays at Burntwood School in Wandsworth (SW17 0AQ) and at Wimbledon College (Sw19 4NS) on Saturday afternoons. All of our lessons, private and group lessons, proving to be very popular and all of our learners are making good progression- A big thanks to our experienced and hard working teaching team. This term, like previous terms, we have been overwhelmed by 'Adult & Child' swimming lessons requests.  We would love to add more swimming classes for babies and toddlers, to be able to meet the demand, so, please watch this space and keep an eye on our website to be the first who finds out about the new classes.
We are back again for more swimming lessons till mid December and we look forward to seeing you in our lessons.
---