Floats, Swimming Armbands and Summer Holidays
With the arrival of summer, taking children swimming turns to one of the most popular family activities. Swimming is good fun for children who are good swimmers, but, for those who are either non-swimmers or weak swimmers, swimming with floats and swimming armbands could be considered as a good option by adults. Floats are generally inexpensive and easy-to-buy in shops and online.
Generally, adults who accompany children who cannot swim, tend to rely very much on different flotation devices.
With armbands, you can get children in water in no time and help them to 'swim' and have fun. Armbands help to keep children afloat in water instantly and give them a sense of freedom. Even a non-swimmer can kick and move in the water independently with armbands.
Of course, there's nothing wrong with the convenience that armbands and floats can provide but, parents must be mindful that there are also disadvantages. In this post, I'm also highlighting the hidden issues around using them.
Disadvantages of Swimming Armbands

False Confidence:
What parents need to be mindful of is flotation devices and swimming armbands give children a false sense of confidence and security. Children start to think they can travel in water without actual
ly knowing how to float.
Learning to float is a skill and armbands don't help children to understand they can only start off swimming after knowing how to float naturally.
Safety Concerns
Learning to Swim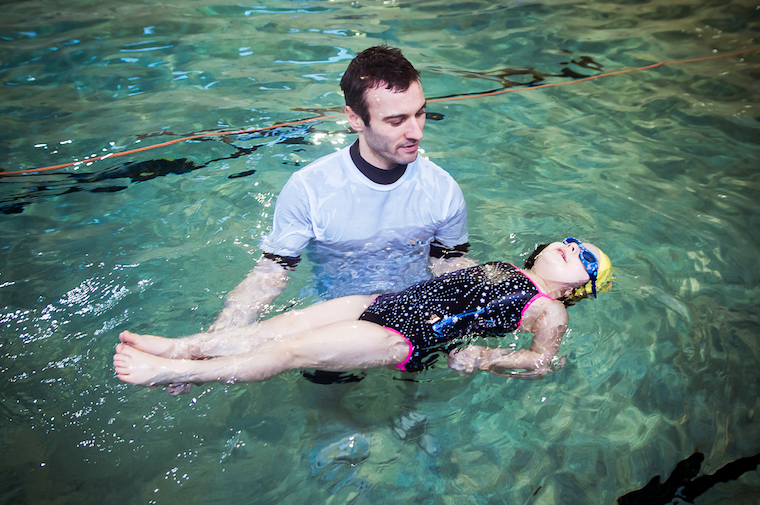 Children must learn to swim to be safe in the water and sometimes children who get used to swimming with armbands, they may get to a point that they would never want to take them off because swimming was so easy with them.
Medical professionals and swimming experts all agree that for water-safety, children must learn to swim. In an article by Danielle McBurnett Stringer (AKA Kidnurse), an experienced paediatric nurse, she has strongly advised parents to sign their children up in formal swimming lessons and throw the armbands away.
The swimming teaching professionals agree that relying too much on floats or other swimming aids can actually prevent children from really learning to swim.
So, ditch the armbands this summer and sign your children up in swimming lessons. Learning to swim can give every child an asset for life.