Swimming Cancellation Under Tier 4
Swimming Pool Closure in London for the 3rd Time in 2020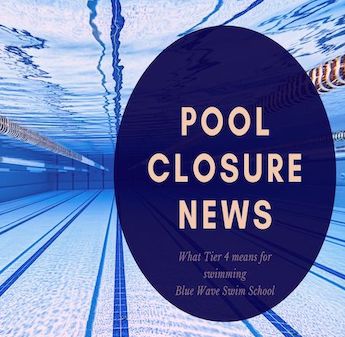 As of Sunday 20th of December 2020, London and South East of England have been put under tier 4 of restrictions.
Although, the government's plan for England was to keep swimming pools and gyms open in all 1 to 3 tiers of restrictions, it was decided to close indoor swimming pools, leisure centres and sports facilities again under the Tier 4 of restrictions.
Tier 4 restrictions is to stop the spread of new strain of Coronavirus.
At the same time, swimming pool closure means, countless mental and physical health benefits will be missed.
In the first statement issued by Swim England for pool closure under tier 4 , they said the decision to close pools in the new tier four areas is 'heartbreaking but understandable'.
But, later on this week, when it was announced that more areas will be put under tier 4 from 26 of December 2020 and pools in Sussex, Oxfordshire, Suffolk, Norfolk, Cambridgeshire, Essex, Waverley and Hampshire have to also shut again like indoor swimming pools in London, another Swim England statement was issued.
The CEO of Swim England said "By keeping these indispensable facilities closed for long periods". It was added "we risk creating a physical and mental health emergency which is entirely avoidable."
The government reviewed the situation on 30th of December. Tier 4 restrictions for London will stay on for at least till middle of January 2021. Schools are closed too.
Can you catch COVID-19 through swimming?
The simple answer is NO. swimming in chlorinated water is like swimming in a big tank of hand sanitiser. Data collected from different counties shows public swimming pools are an incredibly safe environment.
W.H.O statement available on its website clearly explains swimming and water doesn't transmit the COVID-19 virus.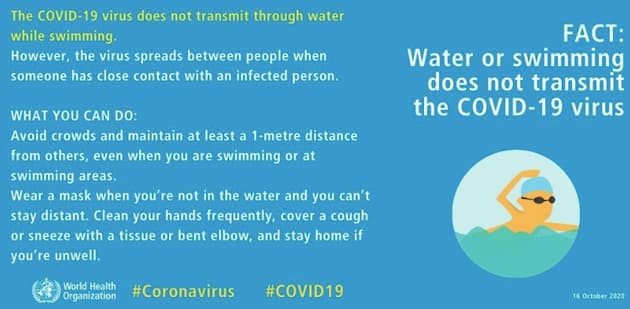 School Holiday Swimming Crash Courses in Xmas
Words cannot explain how we felt when you heard the news last Saturday.
Due to moving London to tier 4 of restrictions from Sunday 20 December 2020 , all indoor swimming pools had to close again and all of our Xmas holidays crash course swimming lessons which were scheduled to run at Aspire Centre in SW18  had to be cancelled.
Can Any swimming Continue Under Tier 4?
What you should know that the order to close swimming pool under tier 4 is for indoor pools.
Are you one of Christmas swimmers? Don't you mind open water swimming in freezing cold weather? You ca still enjoy open air swimming as outdoor pools can stay open. Of course, make sure you have a wetsuit if you want to go for a dip in the sea.
Do you know any open outdoor heated swimming pool close by? Why not go for a traditional Christmas swim in a heated pool!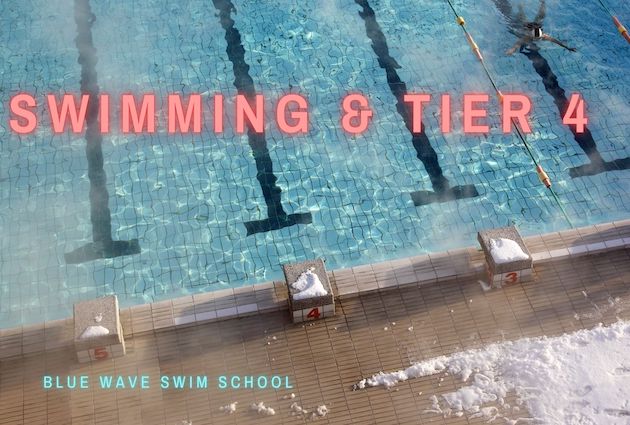 Not sure if any swimming lessons will be offered, but, leisure swimming in outdoor pools are permitted.
The closet one to our venues in southwest London is Hampton Pool in, Hampton, Middlesex TW12.
If you are interested in booking a slot to swim there over the Christmas holidays or there after, please do get in touch with them.
As soon as we have more news about pools re-opening in the new year, we'll keep you posted here.
Meanwhile, you can contact us for nay enquiries over the holidays from 29 to 31 December 2020 and then from Monday 4th of January 2021.
We wish you all a great festive season.
This blog was originally written and published on 24/12/2020 by Marjan Moosavi, founder of Blue Wave Swim School and updated on 04/01/2021.
You can get in touch about this blog or any other content queries by email: info@bluewaveswim.co.uk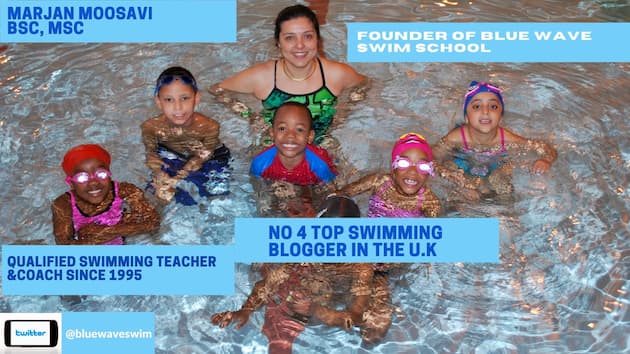 ---