Reasons Everyone Must Start Swimming Post #2 Lockdown
How Lockdown Impacted Our Mental Health
For sure, 2020 has been a year like no others. COVID-19 pandemic and two lockdowns have given us long periods of self-isolation. The impacts affected all regardless of age. A collection of leisure sector and grassroots sports including swimming being stopped and a heavy reliance on 'screens', our brains are under strain since March 2020.
Since the start of the pandemic, we use screen to socialise, to work, to learn and even to stay fit. 
Extremely limited chances of spending time with friends and family and off the charts screen-time, screen-fatigue and limited opportunities for being physically active, no wonder Coronavirus pandemic has let to to an increased level of anxiety and loneliness across the board.
It getting more clear that one of the most important tasks for all of us and specially for parents is and will be, to look after our own mental health.
Exercise And Mental Health
Research has confirmed exercise and specially swimming can improve our mental state and put us in a better mood. Unfortunately, post COVID-19, there has been a drop in physical activity level of people specially children. After the first lockdown, a Sport England study showed only 19% of children are meeting the recommended daily 60 mins of physical activity.
No wonder mental health issues are on the rise.
We must keep moving and stay active for the health of our bodies and our minds.
Of course, swimming is only one form of physical exercise one can take but, swimming is different and unique.
Like all forms of exercise, swimming benefits our physical health. In swimming major muscle groups are working simultaneously and since it is an endurance exercise it is a good work out for lungs and heart. Swimming is an all-body work out.
Why Swimming Keeps Your Mind Healthy?
Swimming is like dance, so, it's more than just moving your limbs to increase your heart rate. Swimming is very therapeutic regardless of age.
Science tells us that being  in and around water in general makes up happier and more creative. If you are swimmer and reading this, I have no doubt that you must agree how relaxed you feel after every swimming session compared to other activities like cycling or running.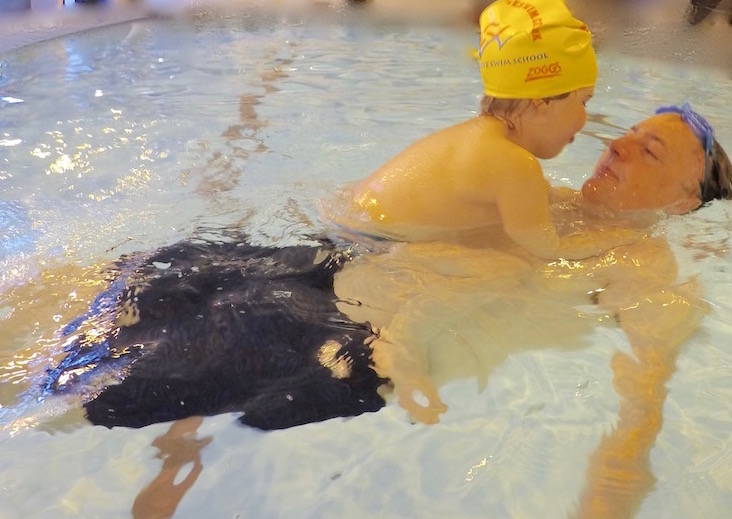 But, why swimming is so relaxing?
Swimming is defined a continuous movement in water, and like other types of physical activity, it connects body and mind.  Holistic connection that swimming can create for body and mind,  has its own mental health benefits
The buoyancy that your body experiences in water relaxes your mind too.  It is almost like being able to move without the limitations of gravity. Buoyancy eases the pressure of body and mind.
All parts of your body; head, neck, back and limbs, can move more freely in water in all directions (front, back, up, down, and side to side). In water there are less restrictions on how we move.  The free but well-patterned movement in swimming  provides a physical embodiment experience.
Swimming continuously is impossible without deep breathing. Continuous inhalation and exhalation is a 'must' in order to swim a fair distance. It is not possible to do distance swimming with shallow breathing. A research by Harvard University showed, deep breathing practices helps people to be more relaxed and reduces anxiety. So, there is no wonder after a swimming session, everyone feels more relaxed and energised.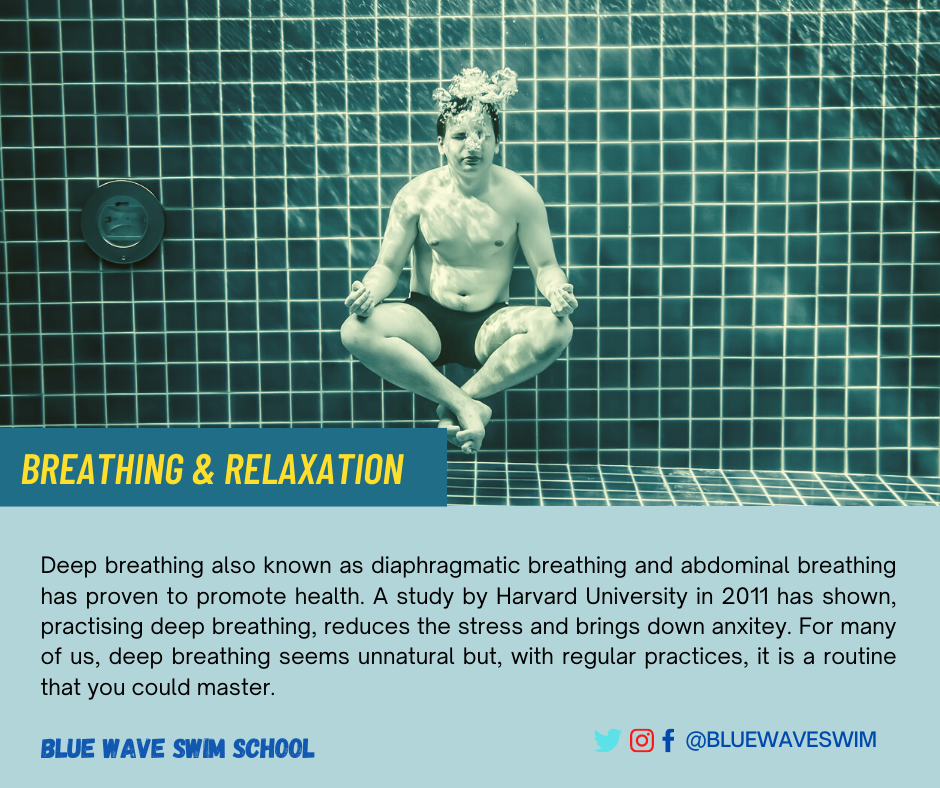 Science has much to say about why we feel so relaxed and positive after swimming, although more research is always needed.
Every swimming experts would tell you water and swimming, either in the pool or in the sea, are indeed very beneficial for the mind, regardless of the age.
A very common feedback from parents over the years that I have heard is about how clam and relaxed children are after their swimming lessons with us.
Look After Your Mental Health with Swimming
Unless you are an elite swimmer, swimming is off in England part of #2 lockdown, till 2nd of December 2020. 
A piece of good news is, the data is showing the rate of infection has been already going down in many London boroughs. So, we are really hopeful that pools in London can re-open in 3 weeks time.
Also, Swim England has started a new #OpenOurPools campaign and maybe pools can re-open before the end of lockdown. You can read more about this campaign and you can get involved here.
But, regardless of when the pools will re-open, make sure you add some swimming to your family timetable to keep your minds as well as your bodies healthy.
By the way, if you need to ask any swimming questions, we are here. Call 0208 090 1415 or
Express your interest  in joining our waiting list for post #2 lockdown classes.
Hope to see you soon in the pool!
This article was written and published on 15/11/2020 by Marjan Moosavi. For any enquiries, please email:info@bluewaveswim.co.uk or go to contact page.
Stay in touch with us by joining our monthly newsletter.
Newsletter (sign up post lockdown)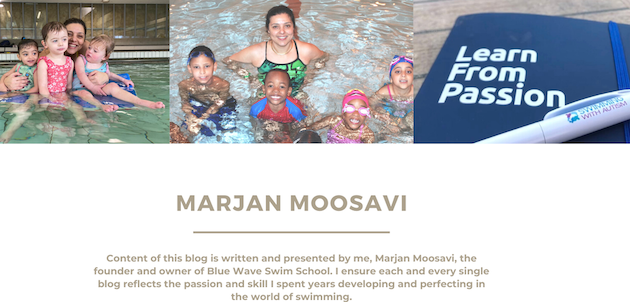 ---