After 3 lockdowns due to COVID-19 pandemic, swimming pools have been permitted to re-open again (from 12 th of April 2021) and swimming lessons can re-start in England.  After the first lockdown, indoor swimming pools were permitted to re-open in England from 25th of July 2020, after 2nd of lockdown it was 2nd of Dec 2020. Pools will re-open 12th of April 2020 after lockdown 3.0 during School Easter break. This blog will explain 10 key changes in pools and swim lessons post COVID-19 all must be aware of
Of course, all pools, have to be implemented many changes before they can re-open safely post lockdowns.
If you are look forward to returning to our swim lessons post lockdowns, rest assured that we have done a very thorough new risk assessment to ensure safety of all of our staff and swimmers and we have summarised the must-knows in 10 key changes post COVID-19 listed below.
However, we still had to make many changes to our swim lessons to make them COVID-secure. We completely understand many people can be unsure of whether it's safe to go back to swimming. So, here's the summary of what we ask all of our swimmers and families do in order to prepare and enjoy swimming with us safely again.
1) Please shower at home, before coming to the swimming pool, we strongly suggest to all clients to showers at home before and after the lessons to reduce the touch points in changing rooms. Keeping pool water as clean as possible, is important that is why we ask all swimmers to shower before coming to the pool.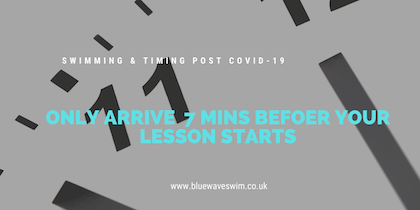 2) Please arrive at the facility no earlier than 7 mins before the start of your lesson. 
3) Please use the hand-sanitiser gel (available at the door before getting to reception) to sanitise your hands and your child(ren)'s hands before entering the facility. The receptionist will also measure your body temperature before letting you to pass through and walk towards the swimming pool.
4) The number of people who can be at the facilities and use the changing rooms have been reduced to a maximum of only 4/5 households. Therefore, we ask only adults who take lesson to come to the pool. We cannot let any extra adults to come to children's swim lessons as spectators. 
For children swimming lessons, all children from one household who attend swimming lesson post COVID-19, to be accompanied only with one adult to swimming pool. Adults can stay in the facility during the children's lessons but, must follow social distancing rules.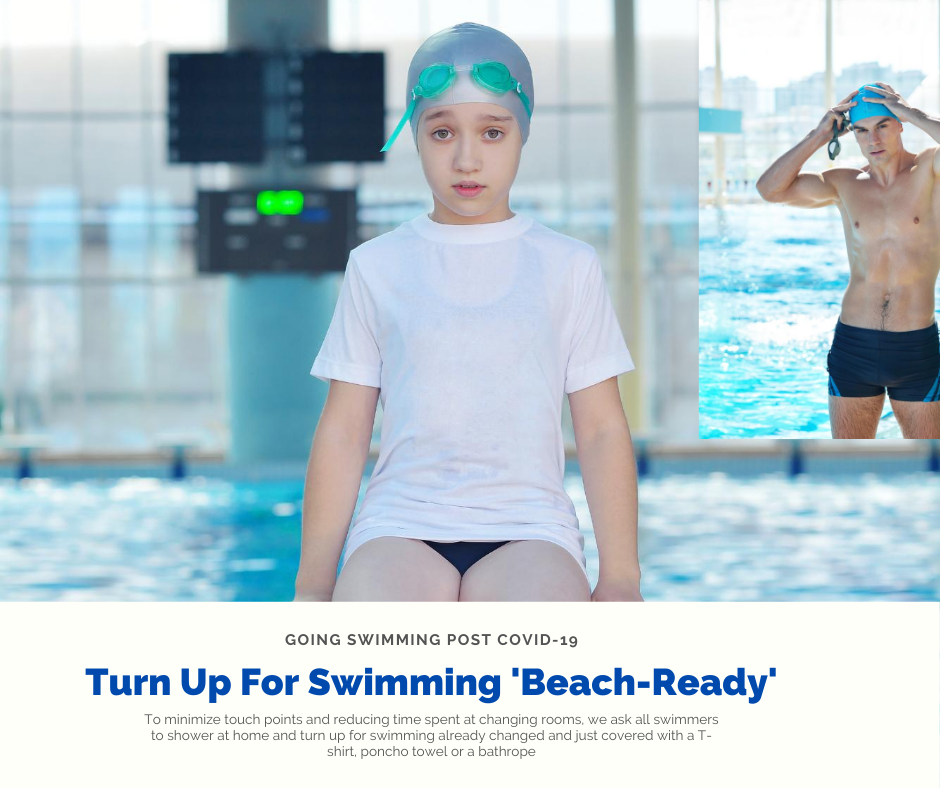 We are asking all swimmers to turn up 'beach ready' for their lessons. Beach ready means spending the minimum time at the changing rooms to get ready before for your lessons. Please see the above photo for what 'beach ready' means.
5) There are some lockers available in the changing rooms but, we discourage you from using them to reduce the touch points.If you need to use them, please bring sanitising wipes to clean the lockers before leaving your staff inside.
6) Please arrive on the poolside on time (and not early) so your swim lesson can start promptly. Please pay a close attention to our system for arriving to the poolside and leaving the pool and always follow the social distancing rules.
Arriving at Swimming Lessons And After Each Lessons
7) During the lesson, our swim instructors will maintain the 2-meter social distance during their lessons. Swim teachers try as much as possible, to deliver their teaching and coaching from the poolside.
8) If you have any swimming teaching equipment/toy available at home like a kickboard or noodle, please bring your own. If you don't have any, that is fine. We put our swimming teaching equipment in the pool water (chlorinated water) to sanitise. We also don't led swimming teaching equipments and toys to be shared between swimmers in one class.
9) After swimming lesson please leave the pool as soon as possible and take your shower at home.  If you need to get changed and put clothes on before leaving the facility, pay attention to social distancing marks in the changing rooms and spend as little time as possible in the changing room. Be mindful of touch points and sanitise your hands and your child(ren)'s hands after leaving the changing rooms
10) If you or any member of your household has any of symptoms of COVID-19, you should not come to swimming lessons. 
If you still feel nervous about returning, phone us beforehand to ask any safety questions.
Post COVID-19 and until the social distancing rules are in place, for beginners and non-swimmers we only intent to offer private and semi-private lessons
Stay in touch with us by joining our monthly newsletter.