Blue Wave swimming lessons take place in South West London throughout term time. On Mondays and Fridays lessons take place at Burntwood School which is located between Earlsfield and Tooting.
The address is: Burntwood School, Burntwood Lane, London, SW17 0AQ.
A walking distance from two popular Wandsworth schools; Earlsfield primary and Beatrix Potter school. Access by car is also easy and while there's no parking on site, there is ample parking on Burntwood Lane and in the surrounding streets. Free parking usually starts from 16:30 on Mondays to Fridays in these parking bays. Alternatively, Earlsfield train station is a 10-15 minute walk away.
Pool's Size & Depth
The school has a 23 metre indoor heated swimming pool with the water temperature set at 29-30°C throughout the year. The pool is regularly tested to make sure the appropriate standards of hygiene are being maintained.  There are four lanes allowing for ample space for stamina building and races for the more advanced swimmers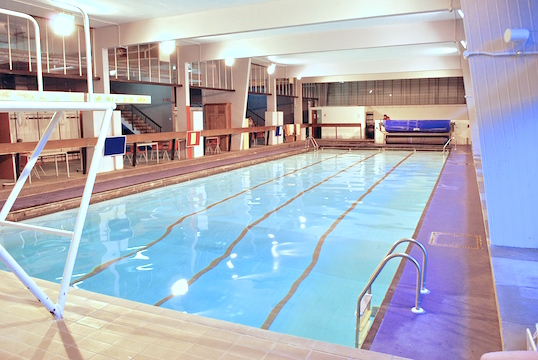 The shallow end is 0.8 metres deep. At this depth most three year-olds are able to touch the bottom of the pool making it an ideal place for pre-schoolers to begin their learn-to-swim journey. Being able to reach the bottom enables them to confidently enjoy the water.
The maximum depth at the deep end is 2.35 metres. Burntwood School swimming pool has two diving boards – a spring board and a higher diving board. The water is sufficiently deep enough (over 1.8 metres) for us to also teach and practice basic diving and personal survival skills in this pool.  Many London pools do not have this facility.
The venue is well supplied with all the aids – such as kick boards, pull buoys, floats and noodles, required for teaching swimming so there is no requirement to bring along additional swimming equipment to lessons.  It is a requirement that all swimmers, male and female, wear swimming hats for hygiene reasons .
Changing Facilities
There are separate spacious changing rooms for boys/men and girls/ladies with warm showers and toilets. Although there are no lockers, there are plenty of hooks for hanging clothes and bags and storage racks for shoes. We do ask parents and carers to make sure they leave the shower facilities in a clean condition and to take all their belongings with them.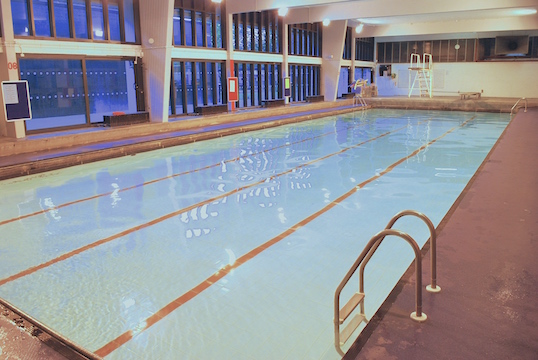 Observatory & Waiting Area:
Parents, carers and siblings are welcome to spectate from the observatory area where there are plenty of tables and chairs available.
There is no vending machine at this venue so, please don't expect to be able to purchase any food or drink (hot or cold) at this venue.